Inside Secretive Samsung Lab to Emulate Silicon Valley Unicorns
By
Creative Lab developing employee ideas for possible spinoff

Samsung program is part of $13 billion research budget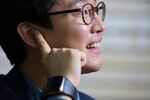 Samsung Electronics Co. employees who came up with creative products outside core businesses in the past would often see their ideas buried in bureaucracy and inertia. The response this year when an engineer developed a wristband to avoid eavesdropping was very different: Samsung helped him start his own company.
The move gave Choi Hyun Chul space and resources to develop TipTalk, which transmits conversations through a fingertip pressed against your ear. The gadget may only create a ripple in the wearables industry, yet its development signals a seismic shift in Samsung's notoriously one-dimensional culture.

Samsung's years-long dominance of the smartphone industry is wavering as the devices become interchangeable, with different manufacturers using the same components and same Google Inc. software. The South Korean company needs a new hit, so it's taking a page from Silicon Valley by giving about 350 engineers the opportunity to work on their own ventures at an in-house incubator called Creative Lab.
"South Korean business conglomerates must be feeling that they have reached the limit, so they need some fresh inputs to foster better results," said Choi Yang Hee, South Korea's science minister. "Through C-Lab, Samsung's tapping new growth drivers for itself."
For Samsung, that means letting those workers take at least a year off from their day jobs to pursue about 100 projects. They include TipTalk; a shoe insert that monitors posture and stride; a Bluetooth-enabled device to help you learn the violin; and a sensor for predicting the onset of a stroke.
1,100 Ideas
Choi is now chief executive officer of Innomdle Lab and working to bring TipTalk to market this year. His project survived a competition between 1,100 ideas and is one of the first to be spun off into its own company. Employees who launch a startup can return to their Samsung jobs if their business fails within five years.
While U.S. companies including Google, with "20 percent time," and Intel Corp., with eight-week sabbaticals, are known for giving workers freedom from their day jobs, such respites are virtually unheard of in South Korea. Most executives at Samsung are lifers -- joining the Suwon-based company straight out of college and spending their entire careers there before retiring.
"Before, all I could do was develop a technology best optimized for products Samsung made," Choi, 32, said. "The biggest difference about C-Lab is that you can make a product based on your own idea, and it could even hit the market within a year."
That fostered a deep-rooted hierarchy, with Chairman Lee Kun Hee at the apex, focused on making heavy investments in existing technologies and then using upgrades and quantity to swamp competitors. By allowing side projects, Samsung is trying to be known for more than churning out tweaked phones, TVs and semiconductors.
IPhones, Android
"It's true that instead of looking far into the future, every division is more engrossed in moneymaking," said Jai Il Lee, head of Samsung's Creativity & Innovation Center, which oversees C-Lab. "We hope this project will prompt hidden geniuses to stop hiding and show themselves."
It doesn't have a choice. Samsung is reeling from two years of declining sales of Galaxy smartphones due to tougher competition from iPhones and a flood of cheaper Chinese devices running Android. Shares are down 3.2 percent this year, heading for their third straight annual decline. The phone and chip units contribute two-thirds of sales and 90 percent of earnings.
C-Lab, based in Samsung's headquarters office park, is part of a $13 billion budget for research and development. Plans are moving forward to open another space near Samsung's Seoul complex and at Seoul National University, the nation's most prestigious.
Samsung will find it more challenging in coming years to maintain its share of more than 20 percent of global smartphone shipments, and the profits that go with them, Standard & Poor's said in a Nov. 16 e-mail. That's prompting some outside-the-box thinking at C-Lab.
Violins, Sneakers
"The culture in a hardware company is about engineering precision, which requires discipline and rigid processes," Cyrus Mewawalla, managing director at London-based CM Research, said in an e-mail. "The kind of stuff Samsung now needs is more creative in nature, which requires more freedom."
One startup named Jamit created sensors that, when placed on the bridge of a violin, transmit performance data to a mobile app that points out when incorrect notes are played. Jeon Dae Young, 40, developed the system because his daughter's lessons were too expensive. His venture may be spun off by next month.

"In other divisions at Samsung, all decisions are made by top managers," said Jeon, who's worked at the company for 11 years. "At C-Lab, it feels like you are running your own company."
Two other ventures, WalkON and IoFIT, also moved to the startup phase. WalkON is a mobile app that rewards users with vouchers from participating companies when they reach a target number of steps.
IoFIT is a "smart shoe" insert developed by engineers after one suffered with a backache caused by poor posture. It was spun off in September as Salted Venture with seven employees.
"I felt a bigger responsibility after thinking, 'This is my own company and my own work,"' co-founder Kim Tae Hyun, 31, said.