Food
How to Make Delectable Chicken Dumplings With Riesling-Curry Sauce
All hands on deck for this winning party appetizer with an Afro-Asian twist, courtesy of Executive Chef "JJ" Johnson of Harlem's the Cecil.
by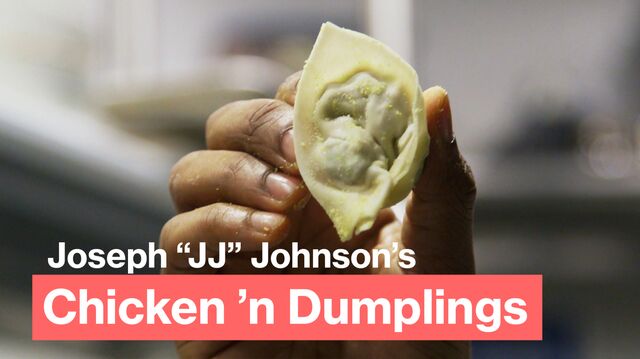 These delicious chicken dumplings, an African twist on traditional Asian dim sum, may take some time, but to Executive Chef Joseph "JJ" Johnson of the Cecil in New York's Harlem, they perfectly embody his idea of a great party—and are a key component of our 2015 Holiday Entertaining Guide.
"I love making this dish during the holidays because it's a great way to get everyone together in the kitchen," he says. "For me, the holidays are are all about family, and making dumplings is an activity that can involve everyone, because there are a lot of steps." 
Think of it as the perfect comfort food dish: rich, sweet, and a little spicy all in one. So grab that extra half-bottle of riesling and get wrapping.

Chicken 'n Dumplings
From JJ Johnson, the Cecil
Makes 50 dumplings, serving 6-8 people
For the Braised Chicken Thighs
20 chicken thighs
1 lemongrass stalk, smashed
2 large garlic cloves, whole
1 small onion, roughly chopped
2 bird's eye chilies, whole
1 or 2 cinnamon sticks, whole
10 sprigs thyme
Salt and pepper, to taste
Sear the chicken in a large pan for approximately 3 minutes on each side. Once seared, add in the chicken stock and all the aromatics at the same time. Cover and braise in oven for 1 hour at 350 degrees.

For the Chicken-Cabbage Dumplings
20 braised chicken thighs, roughly shredded by hand
2 inches ginger, finely chopped
2 small shallots, finely chopped
2 scallions, finely chopped
1 teaspoon turmeric
1 savoy cabbage, shredded
2 bird's eye chilies, finely chopped
1 tablespoon curry powder
Salt and pepper, to taste
Store-bought wonton wrappers
Sauté all the ingredients except for the chicken until cabbage is tender, about 15 minutes. Add the chicken and mix well. Allow to cool and then chop finely on a cutting board. Brush the edges of a wonton wrapper with water and put a tablespoon of dumpling filling at the center. Fold the wrapper in half to make a triangle shape and seal the edges well by pinching them tightly with your fingers. Bring the widest two corners together and pinch them together, to make a tortellini shape. Repeat until you've used up all the filling and set aside while you make the sauce. 
For the Riesling-Curry Sauce
8 tablespoons grapeseed or olive oil  
1 large carrot, sliced
1 large Spanish onion, diced
3 garlic cloves, peeled and halved
2 inches fresh ginger, peeled and sliced
2 tablespoons tomato paste
1 tablespoon curry powder
½ bottle riesling wine
2 quarts chicken stock
1 cup heavy cream
1 lemon, juiced
1 tablespoon butter
Cilantro for garnish
Heat the oil in a large pot over medium heat and sauté the carrot, onion, garlic, and ginger. When the vegetables are golden brown, add the curry powder and allow it to coat the vegetables and become aromatic, about a minute. Add the tomato paste, mix well, and cook for 2 minutes. Pour in the wine, using a spoon to scrape the caramelized bits off the bottom of the pan, and let simmer until the wine has reduced by about half. Now add the chicken stock and cream and simmer for 15 minutes. Turn off the heat and allow to cool slightly, then blend in a blender with the butter and lemon juice until nice and smooth. Taste for salt and pepper.
To Finish and Serve
Cook the dumplings in salted boiling water for two minutes or until the skins are translucent, then drain well and place in a large platter. Pour over enough sauce to coat the dumplings, without drowning them, and garnish with cilantro. 

Video Credits


Shooter: John Manning
Shooter: Max Rosen
Editor: Amy Marino
Producer: Nathalie Milbank 
Before it's here, it's on the Bloomberg Terminal.
LEARN MORE