Beth Curry, Ex-Homemaker Behind Eagle Capital, Dies at 74
Steven Gittelson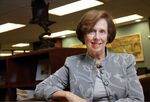 Beth Curry, a former homemaker who returned to school for an MBA and co-founded Eagle Capital Management, a New York-based investment firm with $25 billion in assets, has died. She was 74.
She died Nov. 16 at her home in Manhattan, her husband, Ravenel Boykin Curry III, said in a telephone interview. The cause was a recurrence of breast cancer that was first diagnosed 23 years ago.
Curry had been married 16 years and at home raising three children when she decided to enroll in business school. After getting her MBA, she worked as a securities analyst and equities trader for a bank. In 1988, she and her husband, a former partner at H.C. Wainwright and portfolio manager at the Duke Endowment, started Eagle Capital.
The firm manages money for pension funds, universities, foundations and families. Eagle Capital's strategy is to concentrate assets in 25 to 35 primarily large-cap securities in a low turnover portfolio, according to its website.
"We look for companies that have great management and good businesses but for some reason are undervalued or overlooked by the investment community," Curry said in a 2010 article in Queens, the magazine of Queens University of Charlotte, in North Carolina. "The kind of companies we are looking for are ones with everything in place to become greater than they are today."
Farmer's Daughter
Mary Elizabeth Rivers was born Sept. 5, 1941, in Wadesboro, North Carolina, the first of five children, to James Rivers and Elizabeth Maynard Rivers. She grew up on her parents' peach farm in Chesterfield, South Carolina, where she fed their chickens and explored the countryside.
After attending public schools in Chesterfield, Curry enrolled in Queens College where she was student government president and graduated with a bachelor's degree in English in
1963. The school changed its name to Queens University of Charlotte in 2002.
In the summer before her junior year, Curry traveled to Europe and met Ravenel Curry, a fellow South Carolinian and a student at Furman University in Greenville.
"Probably we were the only two who could understand each other with our southern accents," Ravenel Curry said.
Teaching Experience
Less than a month after her graduation, they married, and her husband, who was then in the U.S. Army, was immediately posted in South Korea. Curry followed her husband there, where she found work teaching the children of a Presbyterian minister.
"It was a wonderful period of my life and opened my eyes to so much of the world," she said in the article.
Returning to the U.S., the couple moved to New York and then to Summit, New Jersey, where she raised three children and helped set up a nonprofit daycare center.
"That's when I became in interested in business," she said, according to the article.
In 1979, they moved to Charlotte and Curry re-enrolled in Queens College, earning a degree from the school's then-new Master of Business Administration program.
They returned to Summit in 1983, and Curry began working as an analyst and trader at Summit Bancorp. Five years later, the couple started Eagle Capital.
She and her husband also established the Ravenel and Elizabeth Curry Foundation, which has assets of $180 million. Through the foundation, the couple has given $3 million to Queens University and $5 million to New York's Weill Cornell Medical College, where Curry served on the board of overseers. She also was on the board at Rockefeller University, a Manhattan-based institution for research and graduate education in the biomedical sciences, chemistry and physics.
Rockefeller's Appreciation
"Beth had a deep curiosity about science and a passion for learning about the work of our investigators," David Rockefeller, honorary chair and Russell Carson, chair of the university's board of trustees, said in a paid tribute on the New York Times website. "Our scientists treasured their friendships with Beth and relished her delight in discovery."
The tribute also was signed by Marc Tessier-Lavigne, the school's president, and Barry Coller, physician-in-chief and vice president of medical affairs.
In addition to her husband of 52 years, survivors include two sons, Ravenel Boykin Curry IV, an analyst at Eagle Capital, and Marshall Andersen Curry; a daughter, Caroline Rivers Curry, a consultant at Eagle Capital; seven grandchildren; and three siblings, Jay Rivers, Rebecca Sullivan and Melinda Ford.
Related ticker: 1260092D US (Eagle Capital Management)
Before it's here, it's on the Bloomberg Terminal.
LEARN MORE