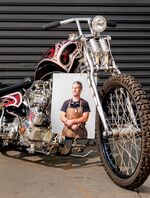 "When I was a kid, I started tinkering with motorcycles—painting the exteriors, fixing broken fenders—and I got a job at Psycho Cycles in New York City's East Village in 1988. I began getting requests for one-off motorcycles and started my own business in 1991.
At my Brooklyn studio, I make everything by hand and don't outsource any products. I hammer all my own sheet metals for gas tanks and fenders. I have a separate section for engine and transmission building, as well as a tannery for the leather seats. I make about four bikes a year. Each one can take 6 to 24 months to complete, and they're tailored to the customers' priorities. One person might want a high-performance engine and be less concerned about paint. Another will request a superflashy bike but may not care about going fast."
From $60,000; paulcoxindustries.com


Before it's here, it's on the Bloomberg Terminal.
LEARN MORE