Clinton's Wall Street Donors Say More Than 9/11 Built Their Bond
By
Bernie Sanders blasts her Wall Street funding during debate

Former N.Y. senator's terrorism reference gets mixed reaction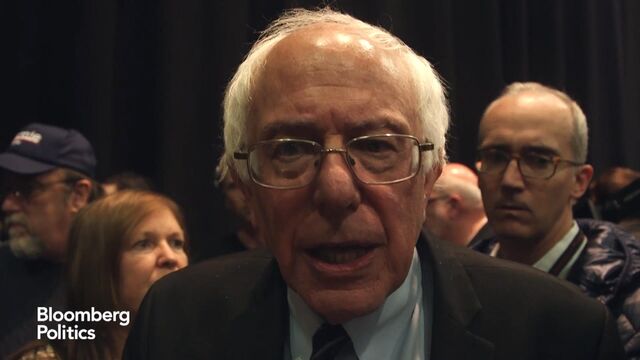 The venture capitalist and Hillary Clinton bundler Alan Patricof was sitting in the audience at Saturday's Democratic debate in Iowa when the former New York senator started raising her voice and pointing with her right hand.
"I represented New York on 9/11 when we were attacked," Clinton said, after rival presidential candidate Bernie Sanders criticized her ties to bankers. "Where were we attacked? We were attacked in downtown Manhattan where Wall Street is. I did spend a whole lot of time and effort helping them rebuild. That was good for New York. It was good for the economy. And it was a way to rebuke the terrorists who had attacked our country."
The line triggered rage on Twitter, spite from her rivals and surprise among allies. Patricof, co-founder and managing director of Greycroft LLC, wasn't sure what to make of Clinton's suggestion that she has a good relationship with the financial industry because of terrorism.
"I was confused," he said Sunday. "I didn't quite understand."
The way he and Clinton's other Wall Street supporters see it, the connections that bind them are long, deep and nothing to be embarrassed about. As Clinton seeks the Democratic presidential nomination against candidates vowing to break up the biggest U.S. banks, her donors in the financial industry say their relationship doesn't hinge on a quid pro quo or the September 2001 attacks.
'Simplistic Solutions'
The hedge-fund manager Marc Lasry, another bundler, said investors like Clinton, who went on to serve as secretary of state under President Barack Obama, because of her determination. "Look, I've known Hillary for a long time," he said. "Whether you are from Wall Street or from Main Street, you respect her because of her intelligence and because she'll fight for you."
H. Rodgin Cohen, who as Sullivan & Cromwell LLP's senior chairman works on regulation and securities law for banking giants, said Wall Street supports her because she's qualified to be president -- and because she appreciates finance and nuance. 
"She rejects simplistic solutions and slogans in favor of comprehensive and thoughtful analysis," Cohen said, "whether in the financial arena or elsewhere."
Clinton has raised millions of dollars from Wall Street over her career, and her campaign committee has been leading the race for cash donations from employees of the biggest banks.
Patricof thinks the issue of Clinton's money from Wall Street is as overblown as the uproar over her personal e-mail server. He said that while money can buy influence -- "If I saw dramatic support coming out of the sugar industry, I would think it would have something to do with the benefits in some way of sugar legislation" -- financier donations are something different.
"It's where the money is," he said. "Wall Streeters contribute to political parties." 
Sanders' Criticism
Clinton, Sanders and Martin O'Malley began their remarks in Des Moines by observing a moment of silence to honor the victims of the terrorist attacks a day earlier in Paris. It was the Democratic candidates' second debate of the campaign.
Jennifer Palmieri, a spokeswoman for Clinton, defended the candidate's terrorism reference and relationship to a hometown industry. "There are times when she's worked very productively with Wall Street, and 9/11 is an example of that," Palmieri said. "There were also times when she thought they were going too far or pursuing reckless behavior, and she didn't hesitate to speak out."
Clinton's Familiarity
The first part resonates for Erika Karp, a former UBS AG executive who runs Cornerstone Capital Inc., an advisory firm that focuses on sustainable investments. Clinton's donors like that she recognizes "Wall Street and the global financial markets are an essential element in facilitating global prosperity," Karp said. 

But another former UBS executive, 32 Advisors Chief Executive Officer Robert Wolf, said the relationship between Wall Street and Clinton transcends banking. "So, maybe just maybe, the financial-services industry contributes to a candidate based on many other things than his or her profession and may look at many other issues as well," he said, citing immigration, foreign policy and education. "I know I do."
Even so, familiarity plays a role, too. Patricof said Clinton got to know Wall Street figures throughout her years as a New York senator, and established friendships with financial leaders as the first lady, too. 
"I think perhaps over the years she's come to appreciate they are pretty smart people," he said. "Excluding myself."