Race for Iowa
Terror Overshadows Debate, But Rivals Cede No Ground to Clinton
Underdogs Sanders and O'Malley band together to attack her positions on everything from foreign policy to the minimum wage to Wall Street.
By and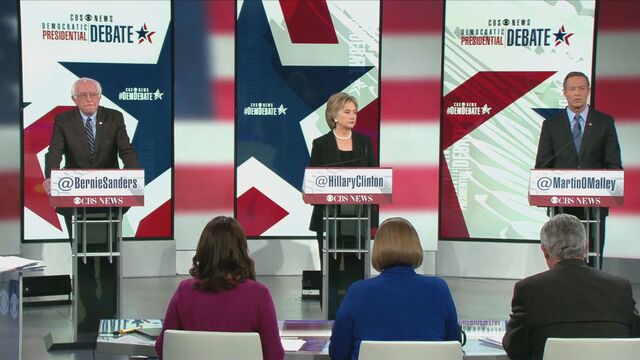 As the nation reeled from the deadly terrorist attacks on Paris, Hillary Clinton walked into the second Democratic presidential debate on Saturday with the most impressive foreign policy credentials on stage: a former secretary of state facing off against a dovish senator and a former governor of Maryland.
Still, neither Bernie Sanders, who has been sliding in recent polls in Iowa, nor Martin O'Malley, who is stuck in the low single digits, were intimidated. The underdogs banded together to attack Clinton's positions on everything from foreign policy to the minimum wage to Wall Street.
O'Malley bemoaned the "mess" Clinton left behind in Syria, Libya, and Iraq after running the State Department, alleged that she takes too much advice "from economists on Wall Street," and quipped that she once masqueraded as an Annie Oakley to impress gun advocates.
Drawing a bright line from the dominant issue of the day and her record, Sanders connected the rise of the Islamic State, which France said was responsible for the killing of at least 129 people, to the invasion of Iraq, which Clinton supported as a U.S. senator. 
While Clinton held her own in defending most of her stances through the two-hour debate, she gave her opponents ammunition just after declaring that Sanders had "impugn[ed] my integrity." The topic was campaign contributions she had received from Wall Street backers. 
"I represented New York, and I represented New York on 9/11 when we were attacked," she said. "Where were we attacked? We were attacked in downtown Manhattan where Wall Street is. I did spend a whole lot of time and effort helping them rebuild. That was good for New York. It was good for the economy and it was a way to rebuke the terrorists who had attacked our country."
Afterwards, O'Malley said that Clinton had committed "one of the biggest" gaffes of the night. Republican Party Chairman Reince Priebus issued a statement that the debate "should have been a walk in the park for Hillary Clinton" and instead "shamefully hid behind the 9/11 terrorist attacks in a bizarre attempt to deflect attention from her ties to her wealthy donors."
Clinton's communications director, Jennifer Palmieri, said her boss "was saying was she was proud to be a senator from New York, she was proud to stand with this community when they were so devastated" but that she will stand up to Wall Street when she opposes its practices. "When she disagreed with this industry, as she did in 2007, that they were going in a dangerous direction, she didn't hesitate to say so."
While it was too early to say whether Clinton's statement would hurt her campaign, one thing was clear: the debate gave her opponents hope they could close in on the front-runner.
After months of subdued campaigning that have left some supporters scratching their heads, O'Malley showed a feistier side to his personality. 
"Libya is now a mess. Syria is a mess. Iraq is a mess. Afghanistan is a mess," he said in a critique of Obama administration engagements that Clinton supported.
O'Malley even worked in a loudly applauded line about the co-leader of the Republican contest, Donald Trump, whom he called an "immigrant-bashing carnival barker."
"I feel like we won the debate tonight," O'Malley said. His campaign manager, Dave Hamrick, called it "a turning point and it's a breakthrough moment for us."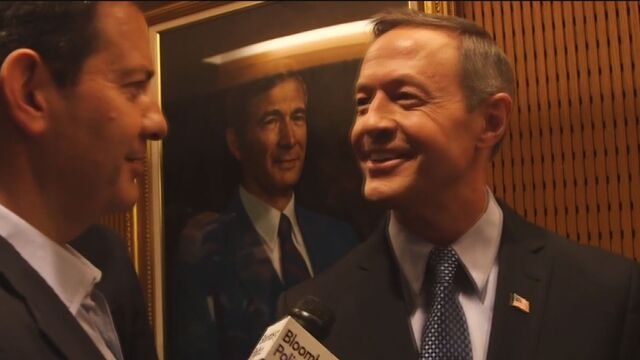 However, David Axelrod, the former senior adviser to President Barack Obama who has not been shy about criticizing Clinton's campaign, said the debate did not change the overall dynamic of the Democratic contest.
"As far as Hillary goes, I think she's still very much a commanding figure in the middle of that stage," he said. "I don't think this was as strong a debate for her as the last debate but I think it was strong enough to hold her place." 
As her opponents went on the offensive, Clinton demurred when given chances to blame Obama or key Arab allies for the rise of the Islamic State or speak provocatively about how to respond.
While Sanders said Muslim nations in the region are going "to have to get their hands dirty" and their own boots on the ground because "this is a war for the soul of Islam," Clinton said Sanders's critique was "very unfair" to some countries in the region, especially Jordan, while saying Turkey and Gulf nations "have got to make up their minds" about where they stand with jihadi groups. 
"I think she was uncharacteristically restrained on the foreign policy stuff," Axelrod said. "I felt like I was watching someone thinking, 'I may be president of the United States and I don't want to say things that will inflame the situation.'"