Why the Road to Taiwan's Presidency Runs Through Washington
by and
Candidates must make cross-Pacific play for security support

Chu stumps in Washington despite facing long odds at home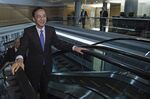 With just weeks to go before Taiwan picks its next president, both candidates might be expected to be crisscrossing the island picking up votes. Instead, Eric Chu -- the ruling Kuomintang Party's nominee -- is in Washington, 12,600 kilometers (7,800 miles) away.
Chu's five-day U.S. trip, which includes stops in ethnic Chinese enclaves in Los Angeles, New York and San Francisco, is all the more remarkable considering the New Taipei mayor is trailing far behind opposition leader Tsai Ing-wen in opinion polls. He entered the race last month after his party abruptly dumped its unpopular candidate.
The late cross-Pacific campaign swing shows the enduring U.S. influence over Taiwanese politics, even after years of flourishing trade with China, its one-time civil war foe. Just as important as stumping on the streets of Taipei is shoring up the U.S. backing that gives Taiwan a measure of geopolitical leverage over Communist Party leaders in Beijing. Tsai made a similar political pilgrimage to Washington in June.
"Whoever is in charge has to demonstrate that they are not going to put at risk the relationship with the sole source of outside support, in terms of security for Taiwan in the case that China becomes more aggressive," said Douglas Paal, a vice president at the Carnegie Endowment for International Peace and a former U.S. envoy to Taiwan.
Key Allies
Taiwan and the U.S. were key allies during the Cold War, only to see the relationship weaken as President Richard Nixon's rapprochement with China in the early 1970s push the island toward greater diplomatic isolation. The U.S. still provides a military umbrella under a 1979 law requiring America to defend Taiwan from a Chinese attack. The U.S. called in two aircraft carrier battle groups to support the island during a dust-up with China in 1996 and has provided $18 billion in arms since 2008.
Chu's visit shows how crucial that support remains even after Chinese President Xi Jinping and his Taiwanese counterpart Ma Ying-jeou shook hands last week in the first meeting between leaders of their camps in about seven decades. The Communist Party still has an estimated 1,200 missiles pointed across the Taiwan Strait and in 2005 passed a law authorizing "non-peaceful means" to prevent the island of 23.5 million from declaring independence.
While in Washington on Wednesday and Thursday, Chu was expected to meet several Obama administration officials, including Antony Blinken and Daniel Russel of the State Department, and National Security Council adviser Daniel Kritenbrink, the Taipei-based United Daily News reported Tuesday. Chu's campaign declined to comment, citing an understanding with the U.S.
White House officials also declined to comment.
Local Support
During such trips, candidates like Chu and Tsai make sure to nurture another key source of local political support. An estimated 1.8 million Taiwanese live abroad, including 300,000 in and around Los Angeles, according to Kent Yang, a spokesman for the Taiwan Foreign Ministry's unofficial outpost in the city.
"At this moment every ounce of force is key, every vote is key," Chu told 600 supporters at a dinner at the San Gabriel Hilton Hotel on Tuesday. "I hope our respected overseas compatriots will convey the message to all of your relatives and all of your neighbors back in Taiwan, that we need to band together and join in unity so that Taiwan's economy can flourish and society can enjoy more stability."
Few Taiwanese-Americans make the trip home to vote. In the Los Angeles area, only about 3,000 overseas citizens traveled back to vote in 2012, according to the foreign ministry's Yang. That said, they are an active source of financial and political support, which Regina Chang, a newspaper commentator and Missouri-based volunteer for overseas Taiwanese groups, likened to the Jewish Americans' influence over policies between the U.S. and Israel.
Taiwan goes to the polls Jan. 16 to pick a successor for Ma, who has overseen improved ties with China at the cost of political support among those wary of growing too dependent on its neighbor. Chu, the leader of the Kuomintang, trails Tsai 27 percent to 43 percent, according to a TVBS survey conducted Sunday. Tsai's Democratic Progressive Party officially supports independence from China, though she backs maintaining the "status quo."
Starting Late
"This is as important as any election," said Li-Mei Ling Baranoff, 62, an accountant in Ventura County who plans to return to Taiwan to vote for Chu. Baranoff emigrated in 1978 and hasn't voted in an Taiwanese presidential election since the island transitioned from martial law to democracy in the late 1980s. "There is a chance, but he started late," Baranoff said of Chu.
Chu's itinerary includes a visit to Twin Oaks, an 18-acre estate owned by the Taiwan government once used to housed Republic of China ambassadors in Washington. After a stop in the capital, he'll meet with National Committee on American Foreign Policy in New York and visit San Francisco on his way home.
The candidates must make symbolic shows of support with Taiwanese living in the U.S., said Wendy Yang, who manages the DPP's West Coast campaign efforts. In return, U.S. supporters help with fundraising and stage massive rallies drawing thousands at a time.
But the U.S. politicians who guarantee the island's security are the main focus of such visits. "When the candidates reach the United States, the itinerary is focused on Washington, D.C., because that is the primary goal," the official Yang said.
Before it's here, it's on the Bloomberg Terminal.
LEARN MORE