Blueprint
Echoing Trump, Cruz Releases Sweeping Plan to Crack Down on Immigration
The Republican presidential candidate abandons his past proposals to increase legal immigration, but doesn't address whether the millions of undocumented immigrants already in the U.S. should be deported.
By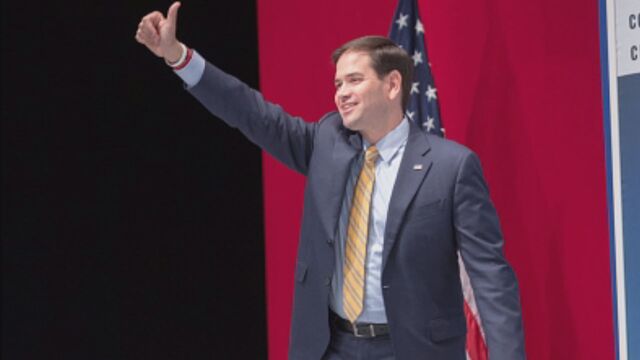 In a sweeping new policy blueprint unveiled Friday, Senator Ted Cruz attacked legal and illegal immigration from all angles, proposing to build a wall on the U.S.-Mexico border, increase deportations of undocumented people, and slow the flow of visas for foreign workers.
The blueprint mirrored key ideas in rival Donald Trump's immigration plan, such as a border wall, reducing legal immigration, and ending birthright citizenship. It comes as the Republican presidential candidate from Texas is locked in a war of words with Senator Marco Rubio of Florida, whose support for immigration reform in 2013 included a pathway to citizenship for undocumented people.
Cruz laid out his plan in a fiery speech in Orlando in which he slammed the Republican establishment as a "Washington cartel" that favors amnesty. However, he did not define the term for several hundred supporters attending the event at First Assembly of God.
"We're tired of politicians who blow smoke. Enough talk. We're going to solve this problem," he said, drawing cheers from the crowd.
Cruz's proposals represent a marked shift from his avowed support of expanding legal immigration. In an effort to "better serve American workers," the Texan calls for suspending H-1B skilled guest worker visas for 180 days to investigate reports of "appalling abuses" within the program. He proposes to "halt any increases in legal immigration" as long as workforce participation rates are "below historical averages."
Echoing Trump, Cruz said legal immigration must "benefit our nation rather than undermining our nation" by "taking away" jobs from Americans. Cruz consulted with Alabama Senator Jeff Sessions, a leading immigration restrictionist, on the proposal, his campaign said. Trump also sought input from Sessions.
As recently as 2013, Cruz introduced proposals to quintuple the annual cap on H-1B visas and double the yearly limit on new green cards.
Cruz's illegal-immigration proposals hew to his outspoken calls for cracking down on those who are in the country without proper status. His plan would also triple the number of Border Patrol agents, raise surveillance and tracking of the southern border, require E-Verify, and use a biometric entry-exit tracking system to keep track of immigrants. Unlike Trump, who says he'd deport the 11 million undocumented immigrants estimated to be in the U.S., Cruz stays silent on that question. But he does propose to "increase deportations" and end federal assistance for "sanctuary cities" that don't cooperate with federal law enforcement.
"I give you my solemn word, if I am elected president, we will secure the border," Cruz said. "We're going to start by building a wall that works."
The Texan would also swiftly undo President Barack Obama's executive actions to shield certain undocumented people from deportation—including the 2012 Deferred Action for Childhood Arrivals and the 2014 Deferred Action for Parents of Americans programs, his campaign said. Cruz's blueprint criticized those programs for "rewarding illegality." He also said some Republican presidential candidates won't say whether they'd end Obama's executive initiatives on immigration, accusing them of answering one way in English and another on Spanish-language TV.
(Contributing: Michael C. Bender)