Bruce Dayton, CEO of Retailer That Became Target, Dies at 97
Stephen Miller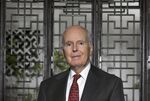 Bruce B. Dayton, the former chief executive officer of Dayton-Hudson Corp., the retailer founded by his grandfather that became Target Corp., has died. He was 97.
He died Nov. 13 at his home in Orono, Minnesota, according to an e-mailed statement from the office of his son, Minnesota Governor Mark Dayton. No cause was given.
Dayton and four brothers inherited Dayton Co., a Minneapolis department store founded in 1902 by their grandfather, George D. Dayton. They started Target as a discount retailer in 1962, according to the company's website.
Bruce Dayton founded the B. Dalton Bookseller in 1966. He named the chain after himself, though replaced the y with an l in his surname, according to "On Target," Laura Rowley's 2003 book. Expanding to 779 outlets, the stores became the largest U.S. retailer of hardcover books.
Dayton Co. went public with an initial stock offering in
1967. Bruce succeeded his brother Donald as president and CEO. The company merged with Detroit-based retailer J.L. Hudson Co. in 1969 to form Dayton-Hudson.
Bruce Dayton, the more financial-oriented sibling, ran the retailer with more of an eye on the bottom line. He "was the brother who always had a full wallet as a kid, ready to loan his brothers a few dollars when they needed cash -- at a mere 10 percent interest," Rowley wrote in her book.
In 1970, Dayton became chairman and was succeeded as CEO by his brother Kenneth N. Dayton. Five years later, Target overtook Dayton-Hudson's traditional department stores as the company's No. 1 revenue producer.
Family's Exit
Dayton, along with his brother Kenneth, retired from the Dayton-Hudson board in 1983, ending 80 years of direct family involvement with the company.
"Each of us moved on when we felt it was appropriate," Dayton said, according to Rowley's book. "That was a different approach than most family businesses."
In 1986, the company sold B. Dalton to Barnes & Noble for a price estimated at between $275 million and $300 million, according to the New York Times.
In 2000, Dayton-Hudson changed its name to Target Corp.
Bruce Bliss Dayton was born Aug. 16, 1918, in Minneapolis, according to the Minnesota Historical Society. His father was George Nelson Dayton, president and chairman of Dayton Co. His mother was the former Grace Bliss.
He graduated from the Blake School in Minnesota in 1936 and received a bachelor's degree in 1940 from Yale University in New Haven, Connecticut.
He started at Dayton's in 1940 and became treasurer in
1946.
Philanthropic Legacy
The Dayton family has a net worth of $1.6 billion, ranking 157th in the U.S., according to Forbes.
Bruce Dayton was called "a dean of American corporate arts philanthropy" in a 2009 story in the New York Times. He was a trustee of the Minneapolis Institute of Art for 73 years and gave more than $80 million to the institution, Anne-Marie Wagener, a spokeswoman, said in a telephone interview.
In addition to the governor, Dayton is survived by his wife, Ruth Stricker Dayton; a second son, Brandt; daughters Lucy and Anne; 11 grandchildren; and two great-grandchildren, according to the statement.
Before it's here, it's on the Bloomberg Terminal.
LEARN MORE