Alpine Takeover Tussle Exposes Risks of Swiss Family Companies
by , , and
Investors balk at proposed deal by Sika founder's heirs

Mother's blessing for a sale unleashes a torrent of trouble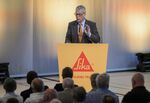 Before she died in 2013, Franziska Burkard-Schenker told her son he could sell the Swiss chemical maker her grandfather founded in 1910, as long as it didn't happen in her lifetime. She couldn't have known the torrent of trouble such a sale would unleash.
Twelve months after her death at age 84, her son Urs Burkard told Sika AG's board of directors that the family had agreed to sell its 16 percent stake in the company to France's Cie de Saint-Gobain for $2.8 billion. Under Sika's shareholding rules, a purchaser can buy the family's minority stake -- which carries a majority of its voting rights -- without offering the same deal to other shareholders.
The Burkards are poised to get an 80 percent premium over the share price when the deal was announced last December. Though smaller shareholders -- including asset manager Columbia Threadneedle Investments and Cascade Investment LLC, a fund controlled by Bill Gates -- are furious and have launched a flurry of lawsuits, Burkard insists the family can do as it pleases with its property.
"The legal situation is clear, and it's in our favor," Burkard said at his lawyer's office in Zurich in August. "My mother, my brother and I discussed it extensively. It has been in the works for a long time."
The conflict has shaken corporate Switzerland, spurring grandstanding on the issue by populist politicians and scrutiny by investors concerned their portfolios may be similarly at risk. According to Ethos, a fund manager and proxy adviser that holds a small stake in Sika, more than a quarter of the companies in Switzerland's broadest stock index have rules that release buyers of even substantial stakes from making a public offer for the rest of the shares.
Food producer Huegli Holding AG removed such a clause from its statutes in May. Elevator maker Schindler Holding AG made a move to change its statutes, but the company dropped the plan after the takeover board decided against it. About a dozen Swiss companies have similar statutes as well as a dual-shareholding structure like Sika's that gives family-owners extra voting rights.
Granite Quarry
"The Sika case could have implications for other listed, family-owned companies,'' said Lorenzo Olgiati, head of the mergers and acquisitions group at Zurich law firm Schellenberg Wittmer. "These companies have become a bit nervous and investors are probably more cautious.''
Sika's roots stretch back to the late 19th century, when shepherd Kaspar Winkler left his impoverished village in Austria for neighboring Switzerland. He eventually found work at a granite quarry near Zurich, where he often spent his nights experimenting with construction materials. He worked on ways to protect and clean granite, and ultimately developed a waterproofing agent for mortar that he called Sika.
The industrial sealant was used to waterproof Switzerland's Gotthard Tunnel, a 10-mile passage under the Alps that once was the world's longest rail tunnel, as the railroads started to electrify after World War I. While controlling the flow of water didn't matter too much with steam trains, the tunnel needed to be far drier to keep electric engines from shorting out.
Winkler named his company after its signature product in 1930, and went on to develop materials ranging from waterproofing agents to plaster for apartment walls. In World War II, he supplied both sides: The Nazis used a Sika cement additive to build their Atlantic Wall defense system, while the same material was found in ships employed during the Allies' D-Day assault on those very defenses. More recently, a Sika concrete additive was used at the new One World Trade Center in New York.
Changing Tires
Two years before his death in 1951, Winkler signed the business over to Fritz Schenker, a chemist who had married his daughter. Schenker in turn handed Sika over to his own son-in-law, Romuald Burkard, the father of Urs Burkard.
A carpenter by training, Urs Burkard fondly recalls hours spent in the company garage, changing tires for pocket money or driving around with the chauffeurs. While he serves on Sika's board, he doesn't have a management role at the company. Instead, he runs an office interior design firm and co-founded, with his wife, a travel agency that specializes in trips to Africa.
"Now we're all about 60 years old and it raises the question of what to do," Burkard said. "My father always said that when none of us were left at the highest management levels, it would be better to split from the company."
Burkards' four siblings have similarly branched out from Sika. One sister owns Moda Bella Grande, a women's clothing store in Baar, the town where Sika is headquartered about 25 kilometers south of Zurich. Another runs a gym and the Bonnie Prince, a pub in Zurich's historic center. And a brother was chief of Sika's operations in the Netherlands and Italy until 2012, but he now runs a business offering bobsled rides on the Olympic track at St. Moritz, the Swiss ski resort frequented by European royals. Their 11 children, ranging from toddlers to young adults, have also shown little interest in running Sika.
"No one in the next generation has taken on a profession aimed at taking over the company," Burkard said. "That's why we started to search for a partner."
Blindsided
Tensions have long simmered between the board and the Burkards, and the current legal quagmire could take years to resolve. After the family announced the deal with Saint-Gobain last December, the board said it was blindsided. Members released a statement that said they knew nothing of the planned sale, and that they would quit if it went through.
Two days later, the family called for the ejection of Chairman Paul Haelg and other directors. The board responded by passing a motion to restrict the family's voting share to 5 percent in major decisions about the company, effectively stripping the Burkards of their ability to conclude the deal. Then in April the Burkards rejected a motion setting compensation for board members, and they have since been working for no pay.
A Swiss court has confirmed the Sika rules that let Saint-Gobain buy the family's stake without making a similar offer to other shareholders. A key ruling in the matter is expected next year, when a court in the canton of Zug is scheduled to decide whether restricting the family's voting rights was legal. If not, then the re-election of directors who oppose the sale could be deemed invalid, removing a major hurdle to the deal. Saint-Gobain has extended its agreement with the family to mid-2016.
At an extraordinary shareholder meeting in July at Waldmannhalle, a sports arena that has hosted the Chippendales male striptease troupe, investors and Sika employees asked Burkard to reconsider the sale. He says the Burkards can't back out -- only Saint-Gobain has that right -- but even if they had the option to exit, they wouldn't.
"A contract is a contract," Burkard said in August. "It's signed and legally binding and we need -- and want -- to stick to it."
Despite the resistance from employees of the company -- 100 senior managers signed a letter to Saint-Gobain saying they're against the deal -- Burkard said he sees it as an opportunity for Sika. It would help the company boost efficiency, and Saint-Gobain would guarantee jobs for two years, he said. The family had turned down higher offers, he said, but declined to give details.
"Time will run out for one of us,'' Burkard said. "But it won't be for me.''
Before it's here, it's on the Bloomberg Terminal.
LEARN MORE