The Chinese Can Cut Trade Deals, Too
In TPP's wake, the pacts may be more political than economic.
By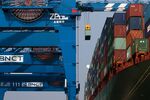 For President Xi Jinping, it was a much-needed victory. On Nov. 9, Australian lawmakers approved a free-trade agreement with China, overcoming local union opposition.
Xi has made such agreements a major part of his strategy to expand China's influence. Most of the deals have been with small countries in emerging markets, making the Australia pact all the more significant. Xi may soon get another boost, with South Korea likely to approve a trade pact.
Wins with Australia and South Korea could help soften the blow of China's exclusion from the biggest regional trade deal in history, the U.S.-led Trans-Pacific Partnership (TPP). A dozen nations, including Chinese rivals Japan and Vietnam, announced in October that they had reached a broad agreement to lower tariffs and expand markets in countries whose economies account for 40 percent of global output. The deal could help the U.S. counter Chinese influence in the region, President Obama said when announcing the TPP.
China is also leading talks on the Regional Comprehensive Economic Partnership, an ambitious all-Asia free-trade deal meant to blunt the impact of the TPP. In smaller efforts, China is negotiating with the Gulf Cooperation Council, which includes Saudi Arabia, and the 10-member Association of Southeast Asian Nations (Asean). In a Nov. 1 meeting, Chinese Premier Li Keqiang, Japanese Prime Minister Shinzo Abe, and South Korean President Park Geun Hye agreed to boost efforts to reach a trilateral accord. "Since all these ongoing talks don't include the United States, [they] would be helpful to enhance China's foreign trade," Zhang Jianping, director of the government's International Economic Cooperation Institute, told the China Daily in October.
Unlike the U.S., which has insisted on protections for labor and the environment in the TPP, China typically doesn't focus on issues other than securing opportunities for its state-owned enterprises and reducing trade barriers such as tariffs. China's attitude is "we want to do more free trade, no matter how you produce the product," says Larry Dongxiao Qiu, a professor at the University of Hong Kong's School of Economics and Finance. "You will not see China insist too much on anything when forming free-trade agreements."

The Chinese don't try to fix "behind the border" problems such as rules that regulate bidding on government contracts and local content requirements, says L. Gordon Flake, chief executive officer of the Perth USAsia Centre at the University of Western Australia. While the U.S. takes a "WTO-plus" approach that also looks at standards on labor, the environment, and corruption, he says, China "tends to be WTO-minus" and narrow in scope.
Still, intra-Asian rivalries will make it hard for China to pull all of these deals off. The hostility Chinese officials have toward Abe is likely to make any progress on the Nov. 1 talks with Japan and Korea difficult, while Asean nations threatened by Chinese territorial claims in the South China Sea will probably be wary about Xi's trade diplomacy. "Not a lot of Asian countries want to be seen as joining the China club," says Tan Kong Yam, a professor at Nanyang Technological University in Singapore and former chief economist for the Ministry of Trade and Industry.
The outlook for the U.S. TPP club isn't certain either, with Hillary Clinton joining House Democrats in opposition. If the TPP does take effect, Xi could swallow his pride and ask to join. Chinese membership in the TPP could boost the country's exports 2.3 percent over four years, the China Daily reported last month. For now, investors shouldn't get too caught up in politicians' claims about transformative trade deals, says Leon Berkelmans, director of the international economy program at the Lowy Institute of International Policy in Sydney. In many cases, agreements are more important for their political symbolism. When determining the economic significance of China's trade moves in the region, "a good test is how excited the businesspeople are," says Nanyang Technological University's Tan. "So far, the most excited people are the diplomats."
The bottom line: China has been negotiating trade agreements from Korea to Australia, but their economic impact is unclear.
Before it's here, it's on the Bloomberg Terminal.
LEARN MORE