Greece Comes to a Standstill as Unions Turn Against Tsipras
By
Unions hold general strike to protest against austerity

PM races to satisfy creditor demands in exchange for funds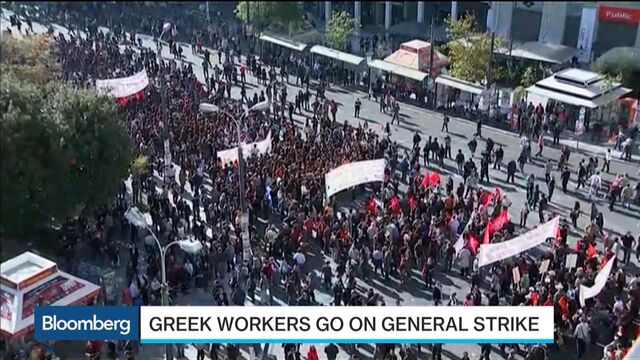 As Greek workers took to the streets in protest on Thursday, Alexis Tsipras was for the first time on the other side of the divide.
Unions -- a key support base for the prime minister's Syriza party -- chanted in rallies held in Athens the same slogans Tsipras once used against opponents. Doctors and pharmacists joined port workers, civil servants and Athens metro staff in Greece's first general strike since he took office in January, bringing the country to a standstill for 24 hours. 
As many as 20,000 protesters gathered in central Athens while a small group of anarchists at the tail of the demonstration threw petrol bombs at police officers at around 1:30 pm local time, a police spokesman said, requesting anonymity in line with policy. The police responded with tear gas and stun grenades.
Greece's biggest unions, ADEDY and GSEE, are holding marches accusing Tsipras of bowing to creditors and imposing measures that "perpetuate the dark ages for workers," as the country's statistical agency released data showing that 1.18 million Greeks, or 24.6 percent of the workforce, remained unemployed in August.
The 41-year-old Greek premier, who was among anti-austerity protesters in previous general strikes, is now racing to complete negotiations with creditors on belt-tightening in exchange for the disbursement of 10 billion euros ($10.7 billion) to be injected into banks. Failure to reach an accord with euro-area member states and the International Monetary Fund on policies including primary residence foreclosures, and stricter rules on overdue taxes, would put the solvency of the country's lenders in doubt.
"The economic policies Tsipras has to implement are definitely harsher than warranted, and also harsher than they would be if it wasn't for these seven months of brinkmanship and extreme political uncertainty," said Manolis Galenianos, a Professor of Economics at the Royal Holloway, University of London. "This wasn't necessary, it could have been avoided, and the government will now implement deeper cuts to achieve less ambitious fiscal targets."
Caved In
The former firebrand opponent of bailouts was catapulted to power this year on a promise to end austerity, only to capitulate to creditors' demands after the freezing of aid from the euro area brought the country's financial system to the brink of collapse, forcing Tsipras to impose capital controls.
Greek banks now need to raise 14.4 billion euros to stay afloat, amid increases in bad loans, subdued economic activity, expensive emergency funding requirements from the European Central Bank, and strict limits on capital transfers. Even as the National Bank of Greece SA and Eurobank Ergasias SA joined Alpha Bank AE and Piraeus Bank SA today in initiating book-building exercises aiming to attract private capital, a big chunk of the money required to cover the hole will come from emergency loans under Greece's latest austerity-attached bailout agreement.

Greece's parliament needs to reduce protection of indebted homeowners "quite a bit more," according to German Finance Minister Wolfgang Schaeuble, and overhaul bank governance rules, before the country is eligible for funding to recapitalize its banks. Tsipras's government has less than a week to comply, and the prime minister told his ministers on Tuesday that concluding negotiations with creditors is a top priority.
'Punitive Austerity'
Even more belt-tightening will be required before Europe's most indebted state gains access to additional emergency loans to cover its budget needs next year, and creditors agree to ease its debt burden. The GSEE union of private sector workers says those measures will bring "punitive austerity, poverty and impoverishment," to a country where a quarter of the workforce is already without a job.

"There's a risk of social explosion, as pension cuts and tax hikes loom," said Sotiria Theodoropoulou, a senior researcher at the European Trade Union Institute in Brussels. "Last summer's shock took a toll on many sectors, and it's difficult to see where growth will come from."
'Obedient Pupil'
Tsipras himself had accused previous governments for following "an obedient pupil" strategy toward creditors. In a statement issued after last November's general strike, the then-leader of the opposition said the government's bailout policies amount to "vassalage" and "servitude," to unreasonable policy demands by the Troika of the European Commission, the ECB and the IMF. On Tuesday, he told his ministers that the government will implement its agreement with creditors.
According to Galenianos, the solution to the prime minister's political problem of walking the tightrope between creditors' demands and managing social unrest, is to create the conditions for growth and jobs for those who rally in the streets of Athens Thursday. 
"The government cannot hire many people to the public sector to resolve the problem of high unemployment, much as they'd like to," he said. "Instead they must create the conditions for the private sector to hire them."
Prolonged Unemployment
For the ETUI's Theodoropoulou, Greece runs the risk of destabilizing stagnation, as the lack of capital for investment, steep internal devaluation, and persistently high unemployment have damped its growth prospects. 
"Greece's economy is at risk of what economists call hysteresis, as prolonged unemployment has undermined its potential output," she said.

Eliminating political uncertainty, instituting a stable tax regime, and improving the effectiveness of welfare benefits would go a long way toward alleviating the social cost of the crisis, according to Theodoropoulou. 
"Greece needs a plan, and a consensus on a vision about its future following social dialog," she said.