Cisco Forecasts Miss Estimates as Currency Erodes Growth
by
Economic growth concerns limit spending by companies

Company says Asia, Canada, Latin America regions weaker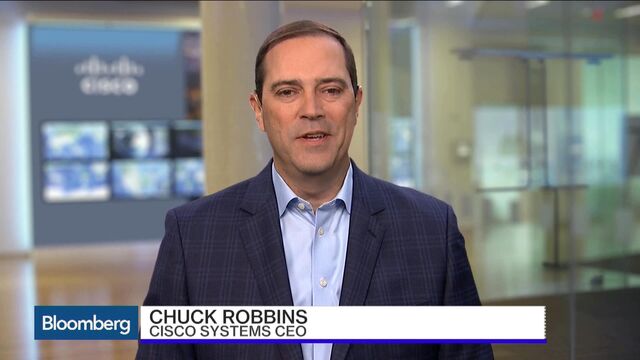 Cisco Systems Inc. said weaker global economic growth and the strength of the U.S. dollar are hurting international sales of its equipment that manages Internet traffic, forcing it to dial back forecasts.
Companies in Latin America, Canada and some parts of Asia remain reluctant to spend on new infrastructure as management teams fret over future demand, Chief Executive Officer Chuck Robbins said Thursday.
"We saw general uncertainty from a macro perspective, with some impact from currency, particularly in Asia," he said in an interview. "It was particularly among those countries that have dependency on the China economy."
The disappointing outlook sent shares down the most in two months.
While Robbins acknowledged he isn't projecting growth at the rate that investors want, he rejected the suggestion that Cisco is missing out on the transition to cloud computing that has curbed sales at other traditional technology bellwethers like Hewlett-Packard and International Business Machines Corp. Revenue from operators of the biggest data centers gained more than 20 percent in the fiscal first quarter, Robbins said.
"It doesn't seem like they're being as affected as much, but their revenue growth is well down from where it was a couple of years ago," said David Heger, an analyst at Edward Jones & Co. "It was somewhat disappointing guidance after a really strong quarter."
Router Decline
Profit before certain costs in the fiscal second quarter will be 53 cents to 55 cents a share and revenue will rise as much as 2 percent from a year earlier, the San Jose, California-based company said Thursday in a statement, indicating sales as high as $12.2 billion. That compares with average analyst projections for profit of 56 cents a share on $12.54 billion in sales, according to data compiled by Bloomberg.
Heger said investors will wait to see whether the weakness remains isolated to a few regions for Cisco and whether the sale of routers, which dropped 8 percent in the quarter that ended in October, can rebound and show that the company is suffering only short-term headwinds.
About 90 percent of the company's revenue comes in the U.S. currency, meaning that swings can hurt demand and pricing. In countries where Cisco could directly measure the impact, it reduced sales growth by about two percentage points, according to Chief Financial Officer Kelly Kramer. The dollar has appreciated 8.5 percent this year against a basket of 10 major currencies.
Cisco shares, which were little changed this year through Thursday, dropped 5.8 percent to $26.21 at the close in New York on Friday.

For the first quarter, which ended Oct. 24, net income rose to $2.43 billion, or 48 cents a share. Sales climbed 3.6 percent to $12.7 billion. Excluding some costs, profit was 59 cents a share, compared with analysts' prediction for 56 cents a share on sales of $12.7 billion.
Gross margin, the percentage of sales left after deducting production costs, was 63.2 percent in the recent quarter, Cisco said. That measure of profitability will be 62 percent to 63 percent in the current period.
First-quarter revenue from switches, Cisco's biggest revenue generator, grew 5 percent.
Cheaper Competition
Robbins is trying to set out his vision for firing up growth and make his mark since his July promotion to CEO to replace John Chambers, the man who led Cisco to become the world's largest publicly traded company at the peak of the first Internet boom. While the company is introducing newer switches and gear, its expensive combinations of hardware and software have been a tougher sell in a world where data-center owners are increasingly building their own networking systems and more traffic is being handled by open-source software working on cheaper machinery.
From 2000 to 2010, the networking equipment pioneer averaged 13 percent annual sales growth. Since then, gains have averaged 4.3 percent.
The market for white boxes, or generic equipment often designed by end customers, is still a small portion of the networking industry, but it's growing rapidly. Researcher IDC estimates that annual sales of white-box network switches will rise about 50 percent by year-end, to top $400 million.
The increasing shift to outsourcing business-computing tasks to data centers that are accessed through the Internet may also be cutting into corporate budgets for hardware purchases.
Cisco has argued that many companies don't have the expertise or inclination to build their own infrastructure, and that its comprehensive networking systems are still central to the industry. The company is also offering its own versions of white boxes using more standardized components and opening up its software to outside customization.
Before it's here, it's on the Bloomberg Terminal.
LEARN MORE