China's Factory Workers Get a Healthier Lunch
Year-old Nourish wants workers to eat better, healthier meals.
By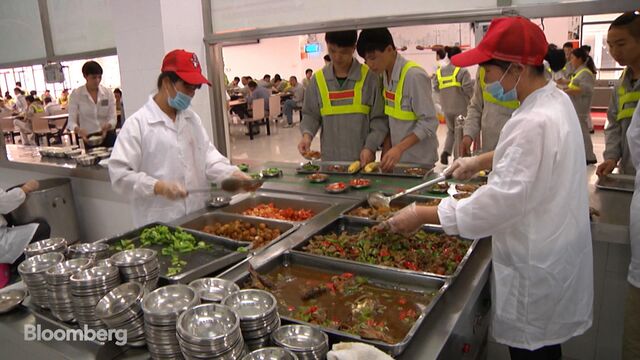 For evidence of the changes afoot at China's factories, take a trip to Shenzhen and head to a cafeteria for lunch. On a mid-October day, Yao Weizhong, an assembly-line worker at the Stanley Black & Decker plant, is deciding between Hunan-style gingered pork spare ribs and Cantonese-style crispy duck. The options, he says, have improved greatly since catering startup Nourish took over the service last year. Aromas waft through the canteen from the other menu items—fried chicken and two kinds of noodles—as Yao digs into his meal.
Nourish, founded early last year, is one of several companies delivering a service that China's workers are demanding. In the last few years, factory owners have focused on improving conditions—from raising salaries to boosting safety—to attract and retain employees. "If the salary's the same, I'd leave to work for another factory if they have better food," Yao says.
Food is as important to China's workers as wages, according to Ian Spaulding, chief executive officer of Hong Kong management consulting firm Elevate Global. "Big factories might be willing to invest a little more to distinguish themselves in a crowded marketplace," he says.
Until recently, the bar for food service was low, says Nourish founder Richard Craggs. "One factory, I won't name names, used to serve three-day-old vegetables and gutter oil," he says. "It's unhygienic and dangerous."

That presents Nourish with a potentially lucrative opportunity to improve food service. The roughly 60,000 factories in South China's Guangdong province employ 40 million workers—a $29 billion food-service market. Highly publicized food scares in China over additives in milk, fake meat, and other unsavory scandals have made food safety a priority.
In its first year, Nourish signed several big clients including Black & Decker, Emerson Electric, and Foxconn Technology. The startup will generate $11 million in revenue this year and make a profit, says Craggs, a Brit who grew up in Hong Kong and spent two decades scouting Chinese factories for European gifts companies. In 2013, he wanted to switch gears and bought two restaurants in Shenzhen. He renovated the kitchens and hired cooks and workers to help him set up catering services for local schools and businesses, while continuing to run the eateries. A break came when the manager of a foreign-owned electronics factory, a regular at one of Craggs's restaurants, asked him to take over the canteen.
Craggs has put $800,000 of his own money into the venture and also drawn $3 million in funding from Gabriel Fong, founder of incubator Jaarvis Labs; Matthew Palevsky, son of early Intel backer Max Palevsky; and Sheila Wong, former head of corporate affairs for Standard Chartered Bank. Nourish's competitors include the U.K. company Compass Group and the French food services giant Sodexo.
Most factory canteens are run and staffed by a mix of contractors and subcontractors. Craggs says layers of middlemen open the door to corruption—purchasing managers skim off budgets, leaving little money for food purchases. Factories typically budget from 5 yuan to 12 yuan (79¢ to $1.89) per worker per meal.
Craggs is trying to get bulk purchasing deals from wholesalers to reduce his costs and is experimenting with ordering dairy and vegetables direct from farms in China rather than through middlemen. Nourish managers are required to track daily prices of 92 vegetables and 48 cuts of meats to ensure that purchasing managers aren't padding accounts.
Craggs is looking to introduce technology in the canteens. He's developing an ordering app, to be released in the spring, so workers can preorder meals from their smartphones. That will help Nourish cut down on food waste. The app will also be used for a new service Craggs hopes to introduce in the spring, delivering lunches and dinners to the growing ranks of China's white-collar workers. "We're leveraging the scale of food for the factories to deliver freshly made lunchboxes or groceries," Craggs says.
The bottom line: Nourish, a food service for several big factories in Shenzhen, expects to generate $11 million in revenue this year.
(Correction: The original version of this story wrongly named Katherine Tsang as an investor in Nourish.)
Before it's here, it's on the Bloomberg Terminal.
LEARN MORE