Sweden Imposes Temporary Border Controls Amid Refugee Crisis
by , , and
Supplemental budget to add 11 billion kronor in spending

Opposition says measures may increase intake of refugees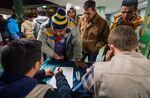 Sweden imposed temporary border controls to stem a record inflow of refugees as the Nordic nation pleads with the rest of Europe to help deal with the biggest migration wave seen in the region since World War II.
The government put checks in place as of noon on Thursday, targeting key crossings such as the Oeresund bridge from Denmark. The checks will last 10 days and can be extended for 20 days at a time, in line with European Union rules, the government said. Ferry operators have also been asked to carry out identity checks and set up passenger lists.

"We need another system, that's obvious," Prime Minister Stefan Loefven said Thursday before a summit of European Union and African leaders in Malta. "This is not an issue for one, two or three countries; this is an issue for the whole European Union."
As one of Europe's most generous asylum policies buckles under the weight of its good intentions, the region's inability to agree on a common approach is growing more evident. Sweden has repeatedly urged other EU nations to do more to share the burden if the region is to avoid a demographic shock with severe policy ramifications. Leaders from Africa and the EU are meeting in Malta on Thursday to discuss how to tackle the growing immigration burden.
Loefven said Sweden's border controls are "exactly according to the rules." The checks in place are "not a fence, we need to make sure that we have control over what people come in to Sweden."
After early on in the crisis declaring it would give all refugees from Syria permanent residency, Sweden has turned into a magnet for asylum seekers.  More than 120,000 refugees have arrived there this year from countries such as Syria and Afghanistan, and as many as 350,000 are expected come to Sweden by the end of 2016. The government has urged refugees to stay in Germany and elsewhere in Europe.
"Sweden is the country that has taken the greatest responsibility," Anders Ygeman, home affairs minister, said at a press conference late on Wednesday from Stockholm. "If we are to handle this, other countries need to step up."
Turned Away
The controls are already having an effect, with 60 refugees turned away from taking a ferry boat from Rostock in Germany to Trelleborg in southern Sweden, newspaper Dagens Nyheter said. About 500 to 1,000 refugees had been arriving daily via that route, DN said.
Scandinavia's biggest economy on Thursday presented a budget amendment that includes 11 billion kronor ($1.3 billion) in extra spending this year to help deal with the inflow of refugees. The Swedish migration agency sees costs hitting 60 billion kronor in 2016, double its earlier forecast.
Meanwhile, support for the anti-immigration Sweden Democrats has surged and there has been a wave of arson attacks directed at asylum centers. Former Prime Minister Fredrik Reinfeldt was voted out of office last year after calling on Swedes to "open their hearts" to people seeking refuge.

Anders W. Jonsson, the acting leader of the opposition Center Party, said border controls won't tackle the main issues, which he identified as a lack of housing and large numbers of unaccompanied refugee children. The policy could even make matters "worse," because refugees en route to Norway and Finland could now be forced to apply for asylum in Sweden as they pass through the country, he said.
Higher Growth
His party wants Sweden to stop offering housing for asylum seekers and instead pay higher benefits to let them find housing on their own. Those waiting for a residence permits should also be allowed to work, he said.
The signal should still be that Sweden is a  "very open country," said Per Bolund, financial markets minister and a member the Green Party, a member of the ruling coalition, in an interview.
"Looking at this economically, I think most agree that this will lead to higher growth," he said. "Of course, we need to invest for example in education and make sure people enter the labor market. Not least, we've been worried about our demography with an aging population, and this can be an important solution to that problem."
Neighboring Denmark has rejected calls from the Danish People's Party to introduce temporary border controls. At the same time, Prime Minister Lars Loekke Rasmussen is about to tighten asylum rules to accommodate the anti-immigration group, with whose backing he was able to form a minority government after June elections.
"It's my understanding that the government will meet us on some of the demands we've made in the past," Danish People's Party immigration spokesman Martin Henriksen said, when asked about plans due to be detailed on Friday.
"We also want refugees to remain in government controlled centers" rather than have local authorities integrate them, he said. "This is a national crisis, and each country has to do what it takes to protect itself."
Rasmussen said his government won't be erecting border checks and that Sweden's move risks backfiring because more people will be able to request asylum at the border, newspaper Politiken reported.
"It is clear that Sweden will not be closed off," he said. "Anyone can still apply for asylum in Sweden. In Denmark's case, we have for a long time prepared a series of initiatives that will be announced on Friday, which has the aim of ensuring that we keep the number of asylum seekers under control in Denmark."
Before it's here, it's on the Bloomberg Terminal.
LEARN MORE