Maps Made 'From the Mind,' Not From GPS
A designer relies on exploration and the knowledge of locals to create a unique series of maps.
By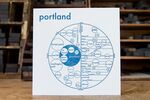 When we aren't sure how to get somewhere, our first instinct is to plug the address into a GPS gadget and let the program figure out the rest. But by relying so much on GPS, we miss out on the thrill of exploration.
It's the same in mapmaking, says Archie Archambault, a designer who's making an ongoing series called "Map From the Mind." Archambault's maps are based solely on his own explorations and time spent with locals in a given city. "It seems kind of dishonest to make a map completely based on secondhand data," he says. "The tradition of mapmaking is surveying and being within the parameters of the space."
The maps he's made won't give you turn-by-turn directions from from point A to point B, but they will give you the gist of various cities through the eyes of locals. Call them, he says, the CliffsNotes to a city. Each map is simple, using circles to illustrate neighborhoods, parks, and other areas that communities deem meaningful or significant.
For some cities, the maps are circular—a shape Archambault says makes it easy for our eyes and brains to take in information. For others, he stayed true to the actual shape of the city. The partial diamond shape of Washington, D.C., for example, is important to the city's history. He's even got maps of the moon, our solar system, and our bodies, highlighting what stands out the most in those settings.


The project began by accident a few years back with a rather crude map of Portland, Oregon, that a friend drew for him when he first moved there. Archambault took the map, jazzed it up, and decided that he would do the same for other cities.
Since 2013, he's been touring cities from San Francisco to D.C. to Berlin, staying with locals he's found on the travel website Couchsurfing.com. He's reached out to neighborhood leaders, historical societies, local cartographers, other designers—anyone who would talk to him—to understand the highlights of cities. "The whole idea behind the maps is simple communication," he says.
Most importantly, Archambault turns off his phone during his trips, letting himself get lost in the confusing streets of Brooklyn or the intricate subway system of Tokyo. "Every time I turn off my GPS, I get panicky and my palms start sweating again, and I can't figure out what I'm doing," he says. "But most people don't even try, because why would you?"


Many who've gotten too comfortable with GPS can relate to Archambault. Sometimes, it feels as though our brains turn to mush when we can't access Google Maps. (Interestingly, Google announced Tuesday that the Google Maps app can now give you directions offline, making it even harder to kick the GPS habit.)
In fact, researchers have been looking at the effect of GPS use on our brains for a while now, and according to a handful of studies out there, the results aren't good. A set of three studies from researchers at McGill University in 2010 suggest that our reliance of GPS may reduce the function of the hippocampus. That's the part of our brain that's responsible for learning, retaining memories, and, well, navigating.
They found that those who rely on spatial navigation—using landmarks as visual cues to determine location and find destinations—had more brain activity than those who simply relied on GPS. In another study, from 2000, researchers found that London cab drivers who navigate the city using only their knowledge of the streets had more gray matter in parts of their hippocampus than the average Londoner.
Archambault thinks that's a waste, recalling a drive around Maine. "It's the most confusing highway system imaginable, but even before cellphones, we still figured it out," he says. "This part of our brain is so incredibly strong, and we really aren't using it all."
Indeed, our brains can do sophisticated mapping work, relying on everything from the smell of the city to the feel of a cracked sidewalk. We have what are called "place neurons," which constantly shuffle patterns to generate cognitive maps of the world. Finding our way, as CityLab previously reported, is one of the most fundamental things humans do.
"It's a funny challenge to turn [the GPS] off when you go to a new place," Archambault continues. "And it's kind of alarming how resourceful you get."
Still, he admits that he does turn to GPS for directions, every now and then.