Ethiopian Emperor's Patek Philippe Pulled From Christie's Sale
by
Wristwatch owned by Haile Selassie removed from Swiss auction

Rare Patek Philippe was estimated to be worth up to $1 million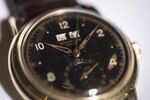 Christie's halted the sale of a Patek Philippe watch formerly owned by the last emperor of Ethiopia, Haile Selassie, in a dispute over ownership of a timepiece that could be worth as much as $1 million.
The 18-karat gold wristwatch, with a rare black luminous military-style dial, was supposed to have been part of an auction in Geneva Monday that raised 13.4 million Swiss francs ($13.4 million), including buyer's premiums, according to Christie's website. A group of Ethiopian-Americans working with Selassie's grandson are demanding that the watch be returned to the descendants of the former ruler, the Denver Post reported.
"This is a normal procedure we undergo when a dispute of title occurs," Christie's said in an e-mailed statement Tuesday. "We cannot comment any further at this point as this matter is ongoing."
Patek Philippe made the timepiece in 1954 on order of Federico Bazzi, an Italian entrepreneur and pilot who lived in Eritrea who wanted to give Selassie a gift during a visit to Switzerland, according to the auction house. The emperor later gave the watch to an "eminent African personality," whose descendant wanted to sell it, Christie's said prior to the auction.
Selassie died in 1975 at the age of 83, a year after being deposed in a military coup during which soldiers plundered his property.
Before it's here, it's on the Bloomberg Terminal.
LEARN MORE