ABC Is Banking on FBI Drama for an International Hit
Star is brilliant, in trouble, and not Claire Danes. It's Bollywood's Priyanka Chopra.
By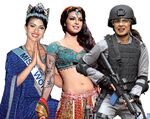 On its own, ABC's Quantico is pretty unremarkable. It's a salacious, binge-watchable show that will feel instantly familiar to anyone who's seen more than five minutes of any other ABC drama in recent years. Want distractingly good-looking young people thrown together in a high-stress work environment, in this case the FBI National Academy? Quantico's got 'em. Frenzied, ersatz Homeland plots resolved by end-of-episode twists? Yup. Love (OK, lust) triangles? Roger that.
But Quantico has one important asset that's putting it ahead of just about every other new fall drama: its lead, Priyanka Chopra. Relatively unknown in the U.S. before now, Chopra is a former Miss World and one of the biggest stars in Bollywood—two of her films are among the highest-grossing in Indian history.
Chopra plays Alex Parrish, a hyper-intelligent FBI special agent who's either responsible for the largest terrorist attack in the U.S. since Sept. 11 or has been framed for it—by an FBI colleague, no less. Chopra's fame is boosting Quantico's profile in the international market, which ABC is counting on to gain an edge over the competition at home.
More than 7.1 million people in the U.S. watched Quantico's premiere on Sept. 27, making it the network's top debut of the season. According to entertainment news site Deadline, it was this fall's second-most-discussed new show online, trailing only The Muppets. "I and the other Indian people I know got so excited when we saw [Chopra] in the show's ads," says Gitesh Pandya, editor of Box Office Guru, which tracks the Indian and U.S. film industries. "We don't normally see one of our movie stars plastered all over buses and billboards in America."
The series has mostly held steady so far, at more than 5 million viewers per episode. That's about two-thirds the size of the audience for Scandal, another soapy ABC hit, but still impressive in today's market, where streaming services are sucking viewers away from traditional television and a new show is lucky to pull in a million or two viewers.
International markets could help networks compensate for lost eyeballs. "It's a good way to make sure a new series makes money," says Tim Westcott, TV programming analyst at IHS Technology. U.S. television shows usually air abroad six months to a year after they do stateside, so international buyers can see which ones are hits. Because Chopra is a proven star, Quantico is shown with only a one-week delay in India, enough time for censors to remove any harsh language or suggestion of nudity. (Those censors are strict: Indian network Star World blurred an image of a marble sculpture in an episode of Downton Abbey.) Indian television is an $8.6 billion business, according to PwC. That's small compared with the $100 billion American market, but there's plenty of room to grow. According to a 2011 census, not quite half of Indian households own a TV, up from less than a third in 2001.
Quantico is running or scheduled to run in dozens of countries, many in Southeast Asia, and has been dubbed in 44 languages. ABC isn't the only network rushing to exploit those markets: CBS is making a TV version of Rush Hour featuring John Foo, a British actor of Chinese-Irish descent and the star of many Asian action movies.
Quantico was created as a vehicle for Chopra, but Alex, her character, could have been played by an actor of any ethnicity. "You're starting to see a normalization of the Indian face," says Box Office Guru's Pandya. "We're not just taxi drivers or convenience store owners anymore." Quantico is awash in other clichés. In the third episode, Alex's love interest, a fellow FBI trainee named Ryan, tells her, "You take care of everyone else," he says. "Have you ever let anyone take care of you?" 
Before it's here, it's on the Bloomberg Terminal.
LEARN MORE