Disney, Like Fans, Must Wait for 'Star Wars: Force Awakens'
by
Company can't book Force Friday toy sales until film's debut

Analysts say benefits will fall into fiscal 2016 instead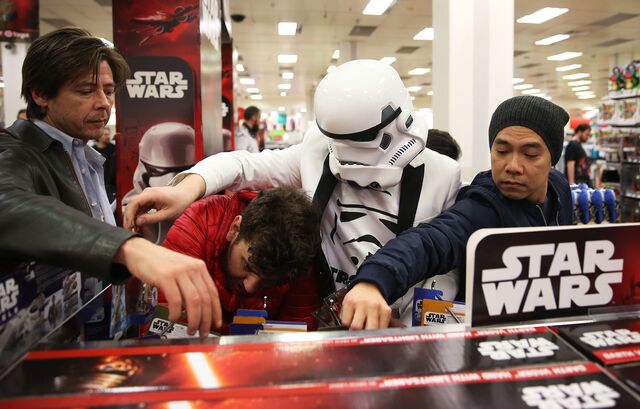 Captain Phasma masks, Kylo Ren lightsabers and BB-8 backpacks have been flying out of stores the world over since Sept. 4, yet not a cent of those sales showed up in Walt Disney Co.'s quarterly earnings this week. And they won't until the new "Star Wars" film opens next month.
Accounting rules bar Burbank, California-based Disney from recording revenue from "Star Wars: The Force Awakens" products until the movie hits theaters on Dec. 18, Chief Financial Officer Christine McCarthy told investors on a conference call Thursday. Disney will book the sales in its current fiscal first quarter instead, she said.
The rule came as a surprise to some analysts. Nomura Securities was forecasting fourth-quarter sales of $1.31 billion for Disney's consumer division. They came in $113 million lower. The rule may explain why Disney's total revenue for the period ended Oct. 3 came in a tad lighter than expected, according Barton Crockett, who follows the company for FBR & Co.
"Delayed gratification in licensing," Crockett called it in a research note Friday. Stifel & Co.'s Benjamin Mogil raised his estimates for Disney's 2016 consumer-product revenue based on the news.
"We expect some sort of bump come the end of FQ1 and beyond," Wells Fargo analyst Marci Ryvicker said in her note Friday.
There's little doubt "Star Wars: The Force Awakens" will be a hit, in theaters and in stores. The seventh installment of the "Star Wars" saga and the first since Disney acquired franchise owner Luscasfilm Ltd. in 2012, could be the all-time domestic box office champ with $762 million in ticket sales, topping "Avatar." That's the estimate of film researcher Boxoffice.com.
The first merchandise tied to the movie went on sale in a choreographed global unveiling in September, an event Disney dubbed Force Friday.
Chief Executive Officer Bob Iger called out the event on Thursday's investor call.
"We have Star Wars products in numerous retail categories, especially toys and games," Iger said. "And the huge global response to the brief glimpse of new merchandise we revealed on Force Friday in September suggests the demand will only grow with the release of new movies."
U.S. online sales of "Star Wars" toys hit a 12-month-high of $17.7 million in September, according to research from 1010data. That was a sevenfold increase from the same period last year.
Disney shares, which initially fell late Thursday after the earnings report, rose 2.4 percent to $115.67 at the close in New York Friday. They have gained 23 percent this year.
Before it's here, it's on the Bloomberg Terminal.
LEARN MORE