business
Brazil Hunts for Mudslide Victims After BHP-Vale Dam Bursts
By , , and
Prosecutors plan to seek suspension of mine operating license

Missing workers were heightening one of the dams at the time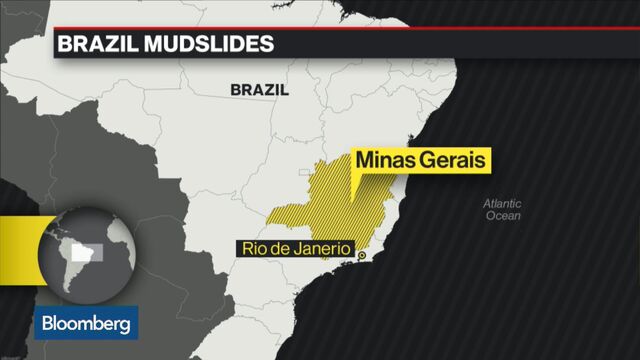 Brazilian authorities stepped up efforts to locate and care for victims of a massive mudslide triggered by ruptured dams at an iron ore mine owned by BHP Billiton Ltd. and Vale SA, in what is being described as the worst environmental disaster ever in the state of Minas Gerais.
The Samarco Mineracao SA joint venture said 569 people were placed in hotels as the army, police and firefighters helped the injured and homeless in Mariana after two tailings dams ruptured on Nov. 5 and sent a wall of mud crashing into the town. Two deaths were confirmed and at least 28 people were missing on Saturday.
While Samarco said it couldn't confirm the cause of the accident, state prosecutors said the missing personnel were working on raising the height of one of the dams at the time of the collapse. Prosecutors plan to request the suspension of the mine's operating licenses on Monday and said the company should pay indemnity regardless of responsibility.
"We will recommend the state secretary to suspend the license for the whole enterprise until its compliance is assessed and safety for communities is guaranteed," Carlos Eduardo Pinto, a prosecutor in Mariana, told reporters. "We filed a public civil investigation into an event that caused the most environmental damage in the history of our state."
Shares Slump
Shares in Anglo-Australian BHP, the world's largest mining company, and Rio de Janeiro-based Vale both fell 5.7 percent on Friday. Samarco's $1 billion in bonds due 2022 tumbled 6.7 cents to 76.7 cents on the dollar. Standard & Poor's placed Samarco's BB+ rating on CreditWatch with negative implications.
BHP Chief Executive Officer Andrew Mackenzie told reporters Friday in Melbourne that the biggest imperative was to secure the safety of the community and the workforce, while Vale said it has offered support and assistance to local authorities. A full investigation would be required to establish the cause of the incident, Mackenzie said.
Four earthquakes measuring 2.0 to 2.6 on the Richter scale hit areas near Samarco before the collapse, University of Sao Paulo's Center of Seismology said on its social media page. "The magnitudes were very small and it is still not possible to establish a relationship between earthquakes and the dam break," the institute said. 
Mud Wall
Dams called Fundao and Santarem ruptured between the towns of Mariana and Ouro Preto, about 120 kilometers (75 miles) from the state capital of Belo Horizonte. Footage on the Globo news website showed extensive mud flows engulf dozens of homes in a nearby village and leave a car precariously balanced on top of a wall of a ruined house.
"We cannot at the moment confirm the causes or the extent of the incident or the number of victims," Samarco CEO Ricardo Vescovi said in a video posted on the company's Facebook page. "Our focus is on assuring people's safety and protecting the environment."
The wall of mud hit the village of Bento Rodrigues, north of Mariana, with about 600 inhabitants, and the number of people affected in the area could rise to 2,000, according to Globo, citing estimates from the prefecture. More than 200 rescue workers were searching for victims. The mud flow was eight kilometers long and 2.5 meters deep, Globo said, citing military police.
"Terrible news for those involved," Investec Plc analysts wrote in a note to clients, adding that the business generated earnings before interest, tax, depreciation and amortization of $695 million for BHP last year. "A break in operations is therefore expected to have a negligible impact on forecast earnings, although associated reputation risk/sentiment impact could be worse," the firm said.
Premium Boost
The disaster may support some iron ore prices, although the effect could be less pronounced on benchmark iron ore, which has slumped 32 percent this year as expansions by the biggest suppliers, including Vale and BHP, overwhelm faltering demand in China, the largest consumer. Samarco provides pellets, used in steel output, to about 20 countries, with dominant markets in the U.S. and Europe, researcher AME Group says.
Any disruption may support the current premium for pellets of about $30 a dry ton, Caue Araujo, iron ore industry director at AME Group in Sydney, said by phone on Friday. "Unless there's a stoppage for a significant period, I can't see this having an impact" on benchmark prices, he said.
Prices for iron ore fines with 62 percent content delivered to Qingdao, China fell 1 percent to $48.21 a dry ton on Friday, the lowest in four months, taking losses to 32 percent this year, according to Metal Bulletin Ltd. data. The price of 65 percent content blast-furnace pellets delivered to the same Chinese port declined 2 percent to $67.92 a dry ton.
Pellet Plants
Samarco, which churned out 25 million metric tons of mostly pellets in 2014, uses water-filled pipelines to transport ore from its mines in the states of Minas Gerais and Espirito Santo to processing plants near its port.
Liberum Capital Ltd. had forecast BHP's share of Ebitda from Samarco at $290 million for fiscal 2016, 58 percent lower than last year due to falling premium for iron ore pellets having a "major influence on profitability," analyst Richard Knights said.
"The dam failure is a major concern and could have a material impact on the near-term production outlook for Samarco," Macquarie Group Ltd. analysts wrote in a report. They had forecast Samarco to generate 3 percent of BHP's earnings.
Vale, the world's biggest iron-ore producer, and BHP each own a 50 percent stake in Belo Horizonte-based Samarco. Mining at Samarco's Germano mine began in 1977, according to BHP filings.
Deemed Safe
The incident raises the question of why people were living in the area, Saleem Ali, a professor at the University of Queensland's Center for Social Responsibility in Mining, said by phone. Dams bursting at mines are more likely in places with significant rainfall and landslides, he said.
Dams in the mining industry are "hazards we all have to accept to some degree," Ali said. "The hazard becomes a risk when you've got communities living downstream. That's what I was surprised by. You had a town downstream of this tailings dam which should never have been there."
Samarco said in a statement Friday that the dams were deemed "totally safe" by authorities in July. It said the waste material is mostly silica and doesn't contain chemicals that are harmful to health.
If the mud is found to be toxic, those responsible would be punished, Governor Fernando Pimentel told reporters on Friday from a shelter for victims.
— With assistance by Anna Edgerton, David Stringer, Danielle Bochove, Juan Pablo Spinetto, James Poole, Jesse Riseborough, and Ney Hayashi Cruz
Before it's here, it's on the Bloomberg Terminal.
LEARN MORE