Photographer: Huntstock/Getty Images/Huntstock
The Growth of a Retirement Complex Outpaces Oil and Tech Boomtowns
New town, old-timers.
By
"It's a beautiful day in The Villages, how may I direct your call?" That's the greeting people get when they make an inquiry at "Florida's friendliest hometown," a seniors-only retreat in the heart of the Sunshine State that is, according to the latest Census Bureau figures, the fastest-growing metropolitan area in the U.S.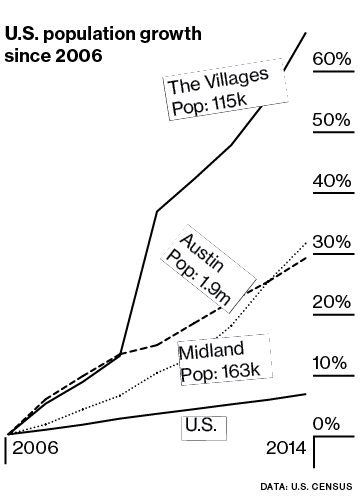 The 23-year-old development's 115,000 residents, up from 51,000 in 2010, motor around in customized golf carts that can range from $8,500 for a standard model to $30,000 for a souped-up version in the style of a Model T and painted in your college football team's colors. A performing arts center and more than three dozen free golf courses are among the top draws at this development targeting retirees looking for the "active lifestyle"; its 2,400 clubs are devoted to such pursuits as stamp collecting, tai chi, comic books, and remote-controlled cars. "There is everything here," says 72-year-old Elaine Dreidame, president of the property owners' association, who moved to The Villages from Ohio in 1999. "It's a one-of-a-kind place." As the development, west of Orlando, continues to sell about 400 homes a month, it's running low on empty lots, according to sales agent Michael Millhorn.
The Villages is one of the purest indicators demographers have of the rising influence of the elderly. The share of Americans aged 65 and older is forecast to grow to 21.7 percent in 2040, from 14.1 percent in 2013. The median age in Sumter County, where the town's located, is 62.7, the highest in the U.S., according to the Bureau of Economic and Business Research at the University of Florida.
The second- and third-fastest growing metro areas in the U.S. are Midland and Austin, Texas. Headquarters to the nation's largest oil region, Midland drew hordes of workers during the shale boom. Now that the oil market has crashed and half the rigs are idled, population growth may stall.
Austin's population is growing at an annual clip of 13 percent—impressive for a metro area that already approaches 2 million. The increase in tech jobs has outpaced employment in other industries every year since 2010, according to the Federal Reserve Bank of Dallas. One problem that could affect Austin's growth: It lacks Silicon Valley's deep pockets to support startups that make it to the next stage of development.
—With Dan Murtaugh and Lauren Etter

Before it's here, it's on the Bloomberg Terminal.
LEARN MORE