Why Investors in Manhattan's Fanciest Condos Should Have S&P 500 Envy
Over a 10-year period, the boring index fund beats New York City's finest condos.
By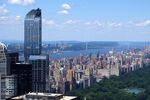 Manhattan condominiums have gained a reputation in recent years as a favorite store of wealth for the global megarich. But what if all those those Russian oligarchs, Chinese industrialists, and U.S. hedge fund managers would have been better off investing in a boring index fund instead of some of the nation's hottest luxury homes?