Toxic Air in India Worse Than Singapore Haze a Test for Modi
By , , and
Smog from illegal farm fires shows task of enforcing curbs

Small-particle pollution 27 times safe level in Indian capital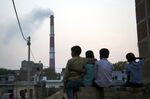 The air pollution meter buzzed and spat out a stunning result: levels of PM2.5 -- tiny, toxic particles that lead to respiratory diseases -- were 27 times the safe limit near the Indian parliament in New Delhi on Wednesday morning.
The reading of 675 micrograms per cubic meter of air recorded by Bloomberg News exceeded the highest measured this year in Singapore, where PM2.5 levels touched 471 in October as Indonesian plantation fires led to some of the murkiest haze the city state has seen.
U.S. satellite images indicate the smog in New Delhi is being thickened by smoke billowing south from Punjab state, where farmers are flouting a ban on the use of fires to clear straw and waste crop. That's just one example of how India struggles to impose environmental rules, showing the challenge Prime Minister Narendra Modi faces to implement wider initiatives -- including curbing greenhouse gas emissions under a plan filed with the United Nations.
"There's a lot of noise in India on environment," Sunita Narain, the director general at the Centre for Science and Environment in New Delhi, said in an interview. "But there's no effective action, as there's no enforcement."

India in October was the last major nation to submit its approach to tackling emissions ahead of a landmark UN climate change conference in December, pledging to cut their intensity about a third by 2030 from 2005 levels. Modi wants clean energy sources such as solar and wind to account for 40 percent of installed electricity capacity in 15 years, reducing reliance on coal.
The World Bank in 2013 put the annual cost of environmental degradation in India at 3.75 trillion rupees ($57 billion). The question is whether the nation, one of the world's top polluters, has the ability to measure emissions accurately, impose environmental regulations and fund the $200 billion clean energy expansion the government is targeting.
Hazardous
The U.S. embassy in New Delhi on Wednesday morning classed the city's air as hazardous. It advised avoiding all physical activity outdoors, adding that vulnerable people and children should stay inside. 
Tiny particulate matter in high amounts can cause respiratory disease by going deep into the lungs, as well as harm the heart and enter the bloodstream. The World Health Organization's 24-hour mean guideline for PM2.5 is 25 -- a fraction of the reading in New Delhi on Wednesday.

Vehicle fumes, another contributor to the city's pollution, illustrate the challenge of lax emission controls. India's Central Pollution Control Board in 2013 reported that some centers conducting vehicle checks had faulty or fake software. There are about 8.8 million commercial and passenger vehicles on the capital's roads.
"The system of checking vehicle pollution needs to be tightened," the board's New Delhi-based Chairman Arun Kumar Mehta said. "The government is looking into it."
Poor Monitoring
A panel of lawmakers in April blamed inadequate monitoring and enforcement for a sharp rise in pollution across India. The committee said regional environment offices were understaffed and that the number of industries inspected has declined in recent years.

Oversight often depends on self-monitoring by industrial units, again raising questions about whether the results would be accurate.
"Self-monitoring is the way to go and we are promoting it," Mehta said. "It's our most important initiative, and 1,600 industrial units have installed online devices. We get an alert if there's a violation and we look into it."
The difficulty for India is that its regulators need greater strength and technical expertise, according to the World Resources Institute.
"We're far from solving the real problem of mitigating exposure to peak concentrations of pollutants," said Madhav Pai, a Mumbai-based director at the institute.
Aside from cars and trucks, millions of India's poor burn fires for domestic use as well as farming. Wealthier folk use belching diesel generators as grid electricity is unreliable.
Modi's agenda for a cleaner India includes steps to attract green investment. Tycoons including SoftBank Group Corp.'s Masayoshi Son, Foxconn Technology Group's Terry Gou, Liang Wengen of Sany Group, Chint Group Chairman Nan Cunhui and Bharti Enterprises Pvt.'s Sunil Mittal have announced plans for at least $25 billion investment in renewables.
At the same time, budget allocations for the federal Environment Ministry have declined for two straight fiscal years. 
Air pollution claims an estimated 650,000 lives annually in India, according to Johannes Lelieveld, a professor at the Max Planck Institute for Chemistry in Germany.
"Our pollution control boards have virtually no equipment and no laboratories," said Narain from the Centre for Science and Environment.