Mylan Lists in Tel Aviv in Latest Salvo in Perrigo Battle
by and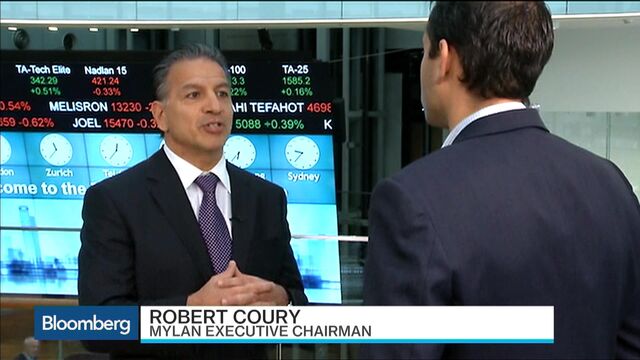 Mylan NV, which is seeking to take over drugmaker Perrigo Co., rose in its first day of trading on the Tel Aviv Stock Exchange.
The listing, the biggest in Israel's history, clears a hurdle for Mylan as it forges ahead with its unsolicited takeover attempt of Perrigo, also traded in Tel Aviv. Perrigo had sought to block the listing, but a regulator ruled in favor of Mylan. The companies are competing for support from Israeli institutional shareholders, which hold about 12 percent of Perrigo.
"I am extremely confident we are going to get over the 50 percent," of the Perrigo stock needed to acquire the company, Chairman Robert J. Coury said in an interview with Bloomberg Television's Elliott Gotkine. "This is highly complementary, two very strong assets coming together to do even more."
Coury, who presented his strategy to investors at the Tel Aviv Stock Exchange this morning, has argued that a combination will produce higher returns than Perrigo's standalone strategy. Perrigo Chief Executive Officer Joseph Papa called the Mylan offer a "bad deal" in an interview with Bloomberg Television during a visit to Israel last month and said it's unlikely to win shareholder support by the Nov. 13 deadline.
Dual Listing
This is the fourth dual listing in Tel Aviv this year, bringing the total amount of new offerings in 2015 to six, on track to becoming the worst year for new shares since 2012. U.S.-traded Mannkind Corp. stock started trading in Tel Aviv on Oct. 28 while BioTime Inc. and Navidea Biopharmaceuticals Inc. debuted on Sept. 8.
Mylan has committed to list for a year even if its bid does not succeed, and for a minimum of three if it does. "With or without Perrigo we will stay" in Israel, Coury told Israeli investors at the exchange as trading began.
If more than 80 percent of Perrigo shares are sold, it would make Mylan's bid successful under Irish takeover law. Mylan has said it would proceed if it acquires more than 50 percent. Perrigo's Chief Financial Officer Judy Brown said that approach would create a "pharmageddon" with two managements within one company.
Mylan closed 3 percent higher at 183 shekels ($47.20) in Tel Aviv. The U.S.-traded shares advanced 1.2 percent to $47.14 at 10:39 a.m. in New York.
Before it's here, it's on the Bloomberg Terminal.
LEARN MORE