Rising Stock
Rubio's Immigration Efforts Haunt His Presidential Ambitions
The surging Republican presidential candidate is facing fresh skepticism from the right on the explosive issue.
By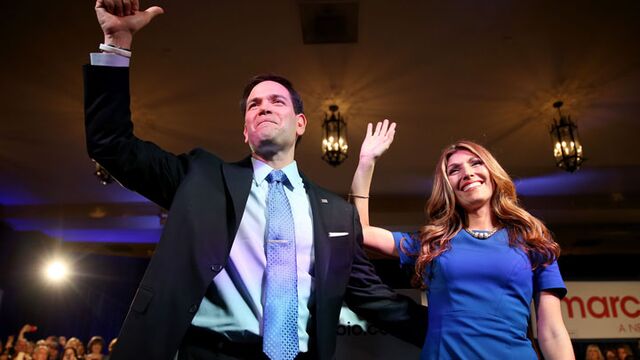 For many Republicans, Marco Rubio's attempt to push immigration reform through Congress is a blemish on an otherwise sterling set of conservative credentials. And if recent barbs from influential movement conservatives and Republican primary front-runner Donald Trump are any indication, it may be the tallest barrier between the Florida senator and the presidential nomination.
After three strong debate performances and an endorsement from pro-immigration Republican billionaire Paul Singer, Rubio, the hard-charging son of Cuban immigrants, is receiving fresh scrutiny for his co-authorship of the ill-fated 2013 overhaul that would have created a pathway to citizenship for millions of undocumented immigrants. The ascent of Representative Paul Ryan, who also supports immigration reform, to House speaker last week has prompted a resurgence of fears on the right about "amnesty" if a pro-immigration figure like Rubio or Jeb Bush wins the White House.
"Rubio's role as [Democratic Senator] Chuck Schumer's frontman for the Gang of Eight bill should come under scrutiny," said Mark Krikorian, an activist for more restrictive immigration policies. "There are a lot of conservatives who want to like Rubio. His task is to give them a way to forgive him, and I don't think he's really done that yet."
Rubio's current position on how to deal with immigration is rather nuanced, triangulating between the pro-immigration wishes of Republican donors and the anti-immigration leanings of the voter base. He remains open to creating a pathway to citizenship for undocumented immigrants and boosting merit-based legal immigration, but no longer supports a comprehensive effort and wants to first toughen border security, a top conservative demand. Though he hasn't precisely defined what a "secure border" would entail, the stance, discussed in his 2014 book American Dreams, is what he emphasizes on the campaign trail. Perhaps that's not surprising, given that polls show that majorities of Republicans want to decrease immigration flows and deport people in the country illegally. 
"It's very close to where we need to start sorting presidential candidates down on that line," said Representative Steve King of Iowa, an outspoken immigration hawk. "The immigration issue is an existential threat to the constitutional republic of the United States. If we continue this cultural transformation through a willful immigration policy, America is unrecognizable in the very short-term. ... So it's that big a threat, which means we have to have a president who gets this right."
Over the weekend, Republican front-runner Donald Trump elevated his attacks on Rubio as "weak" on illegal immigration and favoring "amnesty."
A Rubio campaign spokesman didn't respond to Trump's taunts.
Another potential threat to Rubio is rival Ted Cruz, the Texas senator who voted against the 2013 bill and prides himself on being an illegal immigration hawk. Though Cruz has so far not gone after Rubio, his well-financed campaign and super-PACs (which have raised more than $60 million combined) might not be so kind if the Floridian keeps gaining traction. Cruz is currently polling fourth—fewer than 3 points behind Rubio—in an average of recent national Republican surveys. Cruz has a needle to thread because, unlike many conservatives, he's an avowed advocate of legal immigration, having supported a five-fold increase in the H-1B skilled guest worker program. The Texan wooed King during a two-day pheasant hunt over the weekend.
King said Ryan's ascent to speaker has elevated concerns about illegal immigration in a way that strengthens Trump and Cruz due to their strong opposition to providing legal status, "and it probably weakens the others." (Ryan has ruled out immigration reform under President Barack Obama, but not beyond that.)
The calculus among conservatives is indicative of the headwinds Rubio is facing on the immigration issue. Radio host Laura Ingraham, whose relentless attacks on House Majority Leader Eric Cantor on immigration contributed to his undoing in 2014, assailed Singer as a proponent of "open borders, immigration amnesty," and wondered: "What does he want from Rubio? And what has Rubio, if anything, promised him?"
Ryan's rise to speaker prompted radio juggernaut Rush Limbaugh to predict that "in the first 12 months of the Rubio or Jeb administration, first 12 to 18 months, the donor-class agenda is implemented, including amnesty and whatever else they want." The conservative website Breitbart News has been hammering Rubio frequently on the issue of immigration. At the blog Townhall.com, Kurt Schlichter wrote that the issue is "a huge liability that is going to sink his candidacy" if Rubio doesn't confess he supported "amnesty" and rule it out. He continued, "I would be supporting you today except for the amnesty thing. There are a lot of Republicans like me."
Among the serious Republican contenders, only Rubio and Bush are open to legal status for undocumented immigrants. While Rubio wants a piecemeal effort that ends in a pathway to citizenship, Bush wants a comprehensive effort that includes border security and legal status but without the option of citizenship. Bush is arguably suffering more than Rubio with the GOP base for his pro-immigration position—a recent Bloomberg Politics/Des Moines Register Iowa Poll found that 63 percent of Republicans are less likely to support him as a result of his support for a "path to legal residence for immigrants who are in this country illegally."
"Jeb and Rubio have pretty much the same immigration positions, but Rubio is much more effective in obfuscating what they are and marketing them to conservatives," said Krikorian. "Jeb is a less adroit politician. He just comes out and says what he thinks. ... Rubio is better at deflecting and hiding what he really thinks and wants on immigration." Krikorian posited that Rubio could win back support from the right by categorically rejecting any legal status until border security measures such as E-Verify and an entry-exit tracking system are fully operational.
Republicans who plan to vote for Rubio aren't particularly bothered by his immigration position—some don't understand it—and many don't view the issue as a high priority.
"That's one thing I haven't paid a lot of attention to with him, mostly because I don't think anybody's going to get anything done," said Kim Rodgers, 58, of Davenport, Iowa. Rubio's openness to a path to citizenship is "probably OK, I think," she said.
Beth Ann Schumacher, 61, a retired social studies teacher, listened to Rubio field questions on immigration in Mason City, Iowa over the weekend. "I think it still probably needs to be refined more," Schumacher said of Rubio's assertion that people who come to the U.S. want to work and become a part of this country. "But it was better than what I'd heard before."
Jean Huszar, an 84-year-old retired medical secretary from Portsmouth, New Hampshire, said Rubio's stance on immigration won't affect her view of him.
"As far as knowing exactly what his policy is I'm afraid I have to beg off on that because I really don't know," Huszar said. "I don't know whether he would allow people to come in here without really being screened or what would happen to them if they just come across the border. I mean I don't know the if, ands, and buts so therefore I don't feel that I'm qualified make a definitive comment on that."
As the primary kicks into high gear, Rubio can expect his political foes to make sure that Republican voters like Rodgers, Schumacher, and Huszar hear a whole lot more about his history on immigration reform.
While he remains open in principle to green cards and citizenship for undocumented immigrants, Rubio has suggested it wouldn't happen during his presidency. He has left wiggle room to move left in a general election and appeal to Hispanics—who are influential in key swing states like Florida, Colorado, and Nevada—if he's the nominee. The question is whether his bold risk in 2013 will prevent him from making it that far.  
(Contributing: Alison Elkin and Arit John)