If S&P 500 Valuations Had You Worried in August, They're Back
by
Index P/E ratio approaches five-year high, reached in July

Fed rate increases, stronger dollar darken 2016 outlook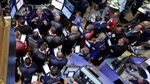 Renewed willingness among U.S. stock investors to pay more for every dollar of earnings may soon be put to the test, according to Russ Koesterich, BlackRock Inc.'s global chief investment strategist.
As the chart below shows, the price-earnings ratio for the Standard & Poor's 500 Index is close to a five-year high. The S&P 500 was valued at 18.8 times earnings as of yesterday, according to data compiled by Bloomberg. The ratio peaked at 18.9 times on July 20 and dropped to 16.6 times on Aug. 25, when the index set this year's low.

"By far the biggest driver of markets has been multiple expansion," Koesterich wrote yesterday in a report. "Investors are once again reacting, as if on cue, by buying risky assets" as central banks around the world test the limits of monetary policy by holding down interest rates and buying bonds, the New York-based strategist wrote.
Rate increases from the Federal Reserve and a stronger dollar will keep P/E ratios from climbing next year, the report said. Futures traders put the odds that the Fed will raise rates at least once by March at 74 percent yesterday, according to data compiled by Bloomberg. The Bloomberg Dollar Spot Index was up 11 percent from a year ago.
"The advent of a tightening cycle, even a gentle one," may be enough to restrain earnings as well as P/Es, Koesterich wrote. Analysts expect S&P 500 profit growth of 7.9 percent next year after a drop of 0.5 percent this year, based on survey results compiled by Bloomberg.
"In contrast, the actions of other central banks are likely to continue to bolster market valuations," he wrote. Koesterich cited the prospect of additional bond purchases by the Bank of Japan, which cut forecasts for economic growth and inflation last week. Japan's Topix Index was about 7.5 percent higher for the year in dollar terms through yesterday, while the S&P 500 gained only 2.2 percent. He favors Japanese stocks.
Before it's here, it's on the Bloomberg Terminal.
LEARN MORE