Nasdaq 100 Jumps to 15-Year High as August's Tumble Is Erased
by
Amazon, Microsoft surge more than 30 percent to lead rebound

Index is first to recoup losses from summer equity rout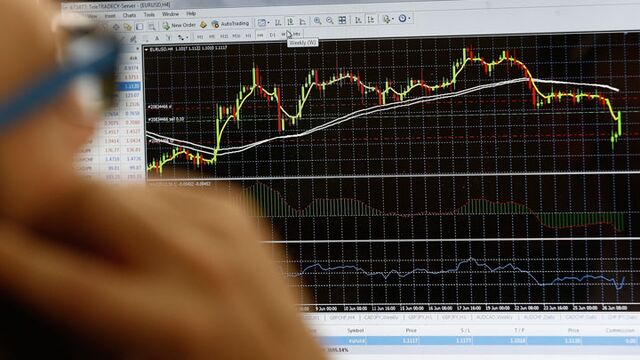 Another step in the recovery from this summer's equity meltdown occurred Monday as a broad advance in U.S. stocks pushed the Nasdaq 100 Index above its July high and toward record territory.
The index's 1.2 percent advance extended its rally from the Aug. 25 trough to 17 percent, making it the first major index of U.S. stocks to retake a multiyear high established earlier in 2015. The Standard & Poor's 500 Index remains more than 1 percent from its May 21 peak of 2,130.82, while the Dow Jones Industrial Average was 2.6 percent from its last record.
Concerns ranging from weakening Chinese growth to stress in credit markets and stagnating corporate earnings pushed the Nasdaq 100 down 14 percent over a one-month stretch starting July 20. The nine-week rebound came as the Federal Reserve held off on interest rate increases and companies including Amazon.com Inc., Microsoft Corp. and Google parent Alphabet Inc. posted sales and profits that beat analyst estimates.
Gains in the index have come in its biggest computer and software companies. Since the Aug. 25 low, Amazon is up 35 percent, Microsoft has added 32 percent and Facebook has jumped 24 percent. The gauge's biggest member, Apple Inc. with a 12.9 percent weighting, has advanced 17 percent after tumbling 21 percent in the summer rout.
"Today some of the biggest losers of the selloff have finally joined the party and are leading the way," said Randy Warren, who manages more than $100 million at Exton, Pennsylvania-based Warren Financial Service & Associates Inc. "The selloff that we saw was a normal, healthy pullback for the market that didn't seem to scare too many people off and ultimately served as a buying opportunity."
The S&P 500 added 1.2 percent to 2,103.94 at 4 p.m. in New York, the highest level since Aug. 10 -- the day before China's surprise devaluation of its currency sparked turmoil on global financial markets. The Dow Jones Industrial Average gained 165.22 points, or 0.9 percent, to 17,828.76. The Nasdaq Composite Index rallied 1.5 percent.
While the broader Nasdaq index eclipsed its dot-com peak in April, its 100-stock sister fell just short. It closed Monday less than a point below its record on March 27, 2000. For 2015, the Nasdaq 100 has jumped 11 percent, extending its gain from the end of 2011 to 107 percent.
U.S. stocks joined a global rally in stocks Monday, as signs of softer manufacturing in China failed, for one day at least, to quell demand from equity investors who instead looked for signs of strength elsewhere.
"The global data today shows stable economic conditions, which is improving sentiment," said Mark Luschini, chief investment strategist in Philadelphia at Janney Capital Management LLC, which oversees about $68 billion. "M&A activity is always a good litmus test for the sentiment of companies and usually speaks well to market conditions, and we've seen some big deals lately."
All 10 main S&P 500 groups rose, with energy and health-care stocks climbing at least 2 percent. Energy companies surged 11 percent in October to snap their longest streak of monthly losses ever. Consol Energy Inc. jumped 17 percent while Chevron Corp. gained 4.5 percent to a July high. 
Deals boosted health-care shares. Dyax Corp. soared 28 percent after Shire Plc agreed to buy the drugmaker for at least $5.9 billion. Pfizer Inc. climbed 3.8 percent as people with knowledge of the matter said the company is making progress in talks to buy Allergan Plc.
A reading today showed U.S. manufacturing remained stuck in neutral in October as factories struggled with dwindling overseas demand and well-stocked customers at home. Official data earlier showed Chinese factory output shrank for a third month, contrasting with a report signaling a pickup in euro-area manufacturing.
The October payrolls report due on Friday will begin to loom larger on investor sentiment as the week progresses. Economists surveyed by Bloomberg project the economy added 182,000 jobs last month, up from Septembers 142,000, with the unemployment rate slipping to 5 percent from 5.1 percent a month earlier.
Equities rallied the most since 2011 in October and are riding their longest streak of weekly gains since December, bolstered in part by central banks as the Fed kept rates pinned near zero, while signs of weak growth prompted the European Central Bank last month to hint at potential extra measures. In Asia, China unexpectedly cut its lending rate and Bank of Japan maintained record stimulus.
The S&P 500 is up 13 percent from an August low as equities recover from a third-quarter swoon triggered by concern that weakening growth in China would spread. An earnings season that hasn't been as bad as analysts initially predicted also helped the benchmark erase a loss for the year.
More than 100 companies in the S&P 500 are scheduled to announce earnings this week. Of those that have released results this season, about 75 percent exceeded profit projections, while 55 percent missed sales forecasts. Analysts estimate earnings dropped 3.9 percent in the third quarter, up from predictions for a 6.1 percent decline a week earlier.
Before it's here, it's on the Bloomberg Terminal.
LEARN MORE