Robert Davidoff, Carl Marks & Co. Manager, Dies at 88
Stephen Miller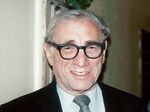 Robert Davidoff, who was an early backer of corporate raider Saul Steinberg and movie producer New Line Films as venture capital chief at the Wall Street boutique Carl Marks & Co., has died. He was 88.
He died on Oct. 27 at his home in Great Neck, New York, Katherine Boas, an executive vice president at the firm, said in a telephone interview. No cause was given.
Davidoff, an accountant, joined Carl Marks & Co. in 1950 and was founding chief executive officer of its venture capital division. He helped the firm start its Small Business Investment Companies unit in 1962, which had stakes in more than 125 businesses, according to a 1979 article in the New York Times. About 70 percent of the firm's U.S. investments grew out of early-stage investments that Davidoff initiated.
In 1982, he became CEO of CM Capital Corp., the firm's subsidiary for leveraged buyouts and venture capital activities.
"Bob was the leading force behind the success of our venture capital affiliates CMNY Capital LP and CMNY Capital II LP," Carl Marks & Co. said, according to an online tribute. "He was an astute businessperson, sage counselor, and trusted colleague."
Among the companies Davidoff invested in was Steinberg's Leasco Data Processing Equipment Corp., which later became part of Reliance Group Holdings, a property and casualty insurer. Other startup investments included New Line Film Productions Inc., now part of Warner Bros. Entertainment Inc. and called New Line Cinema, which produced "A Nightmare on Elm Street' in 1984 and the ''Lord of the Rings'' series.
Pinball Arcades
He also had a stake in book publisher Lyle Stuart Inc., whose tiles included ''The Sensuous Woman'' in 1969 and ''The Anarchist Cookbook'' in 1971. In addition, he backed Time Out Family Amusement Centers, a chain of pinball and electronic amusement arcades.
Carl Marks & Co. was founded in 1925 as the nation's first foreign securities trader, according to its website. The firm's founder, Carl Marks, was a young entrepreneur. Four generations later, the company is still owned by his family. It focuses on investment banking, distressed investments, asset management, private equity and real estate.
'Quiet Philanthropist'
Davidoff ''was a truly gentle man and quiet philanthropist with a commitment to helping those in need," Eric S. Goldstein, CEO of UJA-Federation of New York, a Jewish charity, said in an e-mailed statement.
Robert George Davidoff was born Dec. 25, 1926, in the Bronx, New York, according to Marquis Who's Who. He was the son of Oscar Davidoff and the former Miriam Sarlin.
He served in the U.S. Navy in 1945 and received a bachelor's degree from City College of New York in 1948.
Davidoff became managing director at Carl Marks & Co. in
1990. He was "a distant cousin" of the firm's chairman, Robert S. Boas, according to the Times.
He married the former Esther Schneier in 1949. She died in
2013. They had four children: Barbara, JoAnne, Lawrence and Howard, who also worked at Carl Marks & Co. and died in 2006.
(A previous version of this story corrected the spelling of the firm name in the last paragraph.)
(Corrects number of children in last paragraph of story published Oct. 30.)
Before it's here, it's on the Bloomberg Terminal.
LEARN MORE