What I Wear to Work: Tribune Publishing's Jourdan Smith
The art director also markets fabrics and custom shoes. How? In waxed denim.
By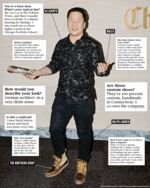 Jourdan Smith, 32, is user experience art director for Tribune Publishing and co-founder and chief executive officer of Emitips in Chicago.
Before it's here, it's on the Bloomberg Terminal.
LEARN MORE