Vanquish Office Foes
We asked readers how to best handle difficult co-workers.
By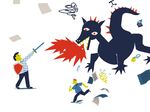 "I once worked with a fashion businessperson who was a bully and a know-it-all. My strategy was to kill him with niceness, and it worked—most horrible office behavior comes from insecurity."
Andy Hilfiger
Partner, Star Branding
"Conflict is a normal part of any creative industry; the strongest survive by facing confrontation directly. When I've been rubbed the wrong way, it's because someone is hiding behind a computer or a mobile device."
Lauren Crampsie
Global chief marketing officer, Ogilvy & Mather
"Early in my career, one investment banking co-worker used to bully the typists. My co-worker's project often got done first but would be full of typos and have to be redone, while mine came back in perfect shape. Respecting and being nice pays off."
Winthrop Smith Jr.
Former chairman of Merrill Lynch International; chairman and CEO, Sugarbush Resort
"I had a business partner who raised his voice, spoke poorly of others, and was extremely difficult. My strategy was to truthfully tell him how he was coming across to others. If you tell someone he's wrong, he'll defend himself, but if you tell him how others perceive him, he won't be as defensive."
John Paul DeJoria
Co-founder and chairman, Paul Mitchell
"I was working in sales, trying to open up a new territory. Enter the company's credit manager, that no-good, base-salary, noncommission-making, jealous, bored-outta-his-mind guy with the audacity to say my new customers didn't have enough credit. I worked around him by bending some rules."
Rooster McConaughey
Co-host, CNBC's West Texas Investors Club
"I so badly wanted to like my manager, but I couldn't get there. To get through it, I made myself identify one thing I liked about how she lived her life—not just her job—and clung to that. I realized we didn't need to be friends, but I had to respect her or the resentment would overwhelm me."
Debra Sercy
Joint chief executive officer for North America, Grace Blue executive search firm
"Many years ago, I had a colleague who ended sentences with the word 'boom.' I told myself to focus on what he was doing for the company. He moved on, and the final time the door closed behind him, many of us said, 'Boom.' "
Greg Waldorf
CEO, Invoice2Go
Before it's here, it's on the Bloomberg Terminal.
LEARN MORE