Deutsche Bank Says Goodbye to Clients to Revive Returns
by and
Some residential MBS, CDS among businesses being abandoned

10 countries exited and clients with `limited prospects' cut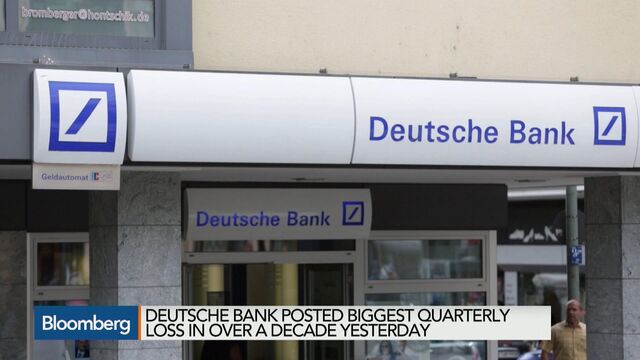 Anshu Jain spent two decades turning Deutsche Bank AG into a global investment-banking behemoth. Now the lender is cutting its client list in half and pulling out of countries around the world.
Deutsche Bank co-Chief Executive Officer John Cryan, 54, in charge since Jain, 52, exited in June, said he'll focus on the customers that generate most revenue, cutting jobs and scrapping a number of trading businesses. Cryan, seeking to slash costs and revive a unit battered by regulatory mishaps and stiffer capital rules, wants to cut ties with "high-risk" locations and customers with "limited prospects," he said on Thursday.

While Cryan is trying to overhaul a business in upheaval since 2014, his plans also signal an end to the expansion once heralded by Jain, who rose to prominence building Deutsche Bank into Europe's biggest investment bank and a leader in bond trading. The new co-CEO laid out his strategy in a presentation filled with criticisms of the bank's trading operations, including its "inflexible compensation culture," issues with risk and conduct and the way it offers "too many things to too many people."
"Previous management was all about market share," said Dirk Becker, an analyst at Kepler Cheuvreux in Frankfurt. "The new guys are looking much more into the bottom line, how many resources on the capital side are bound by each of the clients and product lines. This is the big change."
Deutsche Bank shares fell 1 percent to 25.34 euros at 10.47 a.m. in Frankfurt after sliding 6.9 percent yesterday as Cryan announced his plans. The stock has climbed 1.5 percent so far this year, compared with the 2.6 percent gain by the Stoxx 600 Banks Index.

10 Nations
The 10 countries Cryan plans to exit are Argentina, Chile, Mexico, Peru, Uruguay, Denmark, Finland, Norway, Malta and New Zealand. That's in addition to Russia, where Deutsche Bank is closing its banking and securities activities as it grapples with a probe into alleged money laundering. The company will keep a transaction banking business in the country and information-technology functions, a person familiar with the situation said last month.
"We have to trim the scope and the scale of the business so that we can excel in the markets, the products and the clients where we're well positioned to do so," Cryan told analysts. "The regulatory environment is still not stable."
Cryan's plans follow the sweeping management changes he announced earlier this month, which included the departure of Colin Fan, the former head of trading and a protege of Jain's. Fan's replacement, Garth Ritchie, will oversee cuts to parts of the business that consume too much capital or aren't sufficiently profitable.
Some of those businesses include matching buyers and sellers for so-called uncleared credit-default swaps, which investors use to speculate on a borrower's ability to repay debts, and other securities tied to interest rates, Deutsche Bank said. The lender also intends to quit trading agency residential mortgage-backed securities and "high risk weight" securitized trading, the bank said.
Capital Buffers
Regulators have forced banks to increase the size of their capital buffers against potential losses. This has made the businesses that Deutsche Bank plans to exit less profitable, according to Craig Pirrong, a finance professor at the University of Houston.
"These are particularly capital-expensive and capital-intensive businesses," said Pirrong in a phone interview. "They're risky and they just don't generate the profitability consistently enough to warrant holding the capital that's necessary."
Deutsche Bank said earlier Thursday that revenue from trading debt and currencies, the investment bank's biggest component, rose 20 percent to 1.73 billion euros ($1.9 billion) in the period through September. Equity trading revenue fell 19 percent to 588 million euros. Equity derivatives sales were significantly lower, reflecting losses on client-driven inventory in the U.S. and Europe.
U.S. Competitors
The firm joins European-based global banks who have been battling to adapt to new capital requirements amid record low interest rates and shrinking opportunities for growth. Their retrenchment risks further squeezing lending to economies in the region and handing more business to U.S. competitors, which were quicker to raise capital levels and are benefiting from growth in their home market.
Credit Suisse Group AG this month became the latest European securities firm to overhaul its trading and advisory units after a bigger-than-estimated revenue drop. The Zurich-based lender also said it will separate trading from its underwriting and advisory businesses and eliminate as many as 2,000 positions in London as it boosts its focus on Switzerland and wealth management.
Illiquid Markets
"Deutsche Bank will probably not be alone in this," Pirrong said. "We'll see other banks either cut back in these activities or they might also exit them. That's the problem. These markets are going to be less liquid and more expensive to trade."
It's not all cutbacks. Cryan is investing in some businesses, including advising clients on mergers and acquisitions and helping customers sell shares to investors. Still, "it's a completely new strategy," said Kepler Cheuvreux's Becker.
"It was always clear that it would take a management change to go through this," he said. 
Before it's here, it's on the Bloomberg Terminal.
LEARN MORE