Big Hedge-Fund Windfall in Store If Macri Wins Argentina Runoff
by
Citigroup says 2033 bonds may jump 5% on Macri victory

Macri is now favored to win presidency in election next month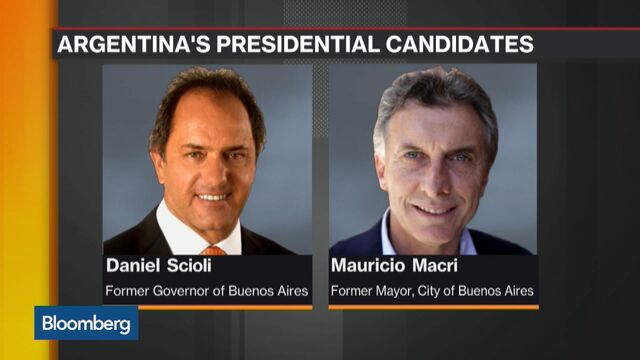 A victory by Mauricio Macri in Argentina's presidential election next month is poised to hand a big windfall to hedge funds.
After finishing in a surprising near-tie with frontrunner Daniel Scioli in first-round voting on Sunday, Macri is now the favorite to emerge victorious on Nov. 22. Citigroup Inc. has put his odds of winning the runoff at 55 percent.
For hedge funds run by the likes of George Soros and Daniel Loeb, Macri's promises to settle Argentina's decade-long debt dispute with creditors and jettison polices that have held back the economy may dramatically boost the value of their bond investments. For example, defaulted bonds due in 2033 may jump at least 5 percent from their current price of about 110.5 cents on the dollar if Macri prevails, according to Donato Guarino, a strategist at Citigroup.

"We're now in a scenario where you have to have exposure to Argentina and it's going to pay off," said Luciano Cohan, the chief economist at Buenos Aires-based research and consulting firm Elypsis. His was the only company to correctly predict the outcome of Sunday's elections.
A price of 116.25 cents assumes past-due interest that currently totals about 15 cents. It's also based on an expectation that, in a Macri presidency, Argentina will trade in line with sovereign borrowers that have ratings in the B tier, Donato said in an Oct. 27 report.
Argentina's foreign debt is currently rated Caa2 by Moody's Investors Service, which is eight levels below investment grade. Standard & Poor's has a SD, or selective default, grade on overseas debt.
Even though Argentina defaulted last year after President Cristina Fernandez de Kirchner refused to comply with a U.S. court order to pay holdout creditors led by billionaire Paul Singer, the country should be rated as high as BB- regardless of who becomes president, Guarino said.
He cited Argentina's per-capita income and potential economic growth among his reasons.
Guarino said the 2033 notes may fall as low as 103.75 cents if Scioli wins. Scioli, the ruling party candidate, has pledged to make only limited changes to the polices of his predecessor.
"While Scioli is likely to attempt a rapid agreement with holdouts, we believe this would be driven by his more gradualist approach, which will require higher USD financing needs," Guarino wrote. Argentina is likely to issue more debt under a Scioli government, "which should negatively impact prices."
The prospect of a Macri win has already sent the nation's bonds up an average 4.2 percent since Sunday's election.
Robert Tancsa, a strategist at Morgan Stanley, estimates yields on the notes may fall to as low as 7.1 percent by the end of 2016 if the next president quickly adopts policies that help revive economic growth and slow inflation. The notes currently yield about 9 percent when adjusting for the past-due interest, according to Bloomberg estimates. 
If Argentina continues with Fernandez's policies, yields could go to about 12.6 percent, according to Tancsa.

"A front-loading of policy adjustments and reforms, including the settlement with the holdouts, would be welcomed by investors," Tancsa said in an e-mail.
Before it's here, it's on the Bloomberg Terminal.
LEARN MORE