Why REI Doesn't Need Black Friday
The co-op is already beating most of its retail competition.
by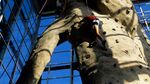 Sleep in, pull on some warm gear, and head to the woods, the beach, or the mountains.
That's Recreational Equipment's big plan for the shopping frenzy-turned marketing gimmick known as Black Friday. The outdoor-oriented retailer will close its 143 stores on the day after Thanksgiving and pay its 12,000 employees to go on their own adventures—or crush some leftovers and take a long nap.
"While the rest of the world is fighting it out in the aisles, we hope to see you in the great outdoors," it said in an e-mail to its customers late on Monday.
These days, it's no longer enough to sell things on the critical shopping weekend after Thanksgiving. A retailer needs a Black Friday strategy, a way to double down on the event and turn it into a marketing opportunity. Recently, companies have risen above the din either by giving away expensive products or by opening earlier and earlier.
REI, meanwhile, tapped into the growing ranks of people who are increasingly frustrated (or sickened) by the whole idea of getting up in the dark and wrestling with strangers over a free TV. Given their appreciation of places that have more trees than parking spaces, REI lovers are likelier than most to fall into that camp. This is a masterstroke of marketing, which REI wrapped up under the tagline #OptOutside. Twitter this morning filled up quickly with messages such as this:
and this:
The return on REI's opt-out publicity could outweigh the opportunity cost of closing its stores for a day. In truth, REI doesn't need to sprint into the holiday sales season. It is already beating some of the biggest retailers in the world. The gear seller's sales growth has bested the Standard & Poor's Retail Index for seven of the past eight years.

"We had a great year last year," Jerry Stritzke. REI's chief executive officer, told me in March. "We're having a better year this year."
REI, which functions as a co-op, rather than a traditional corporation, already has its own shopping holiday. It's called dividend day. Every spring, REI's 5.5 million co-op members get a dividend equal to about 10 percent of what they spent on full-priced items the previous year. So the retailer doesn't need to entice customers with a big, one-day sales blitz. 
And though REI lures a lot of people to stores where they can scale climbing walls and learn how to set up a tent, almost one in four sales dollars comes through its Web shop these days. It won't be "processing" digital orders on Black Friday. Surely it will be taking them.
Before it's here, it's on the Bloomberg Terminal.
LEARN MORE