This Guy Wins When Contestants Miss a Half-Court Shot Jackpot
Behind million-dollar giveaways and field-goal jackpots is Bob Hamman, who underwrites the unlikely and is betting you lose.
By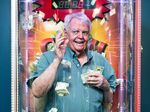 Bob Hamman bought a few truckloads of furniture this year he didn't want or need. "It cost me about $1.5 million," he says with a sheepish grin. "I try to forget those details."
Hamman was on the hook for all those ottomans and recliners because Ohio State upset Oregon in January's NCAA football championship. His company, SCA Promotions, underwrote a contest staged by an Ohio furniture chain promising free goods if the Buckeyes won. Hamman bet they wouldn't.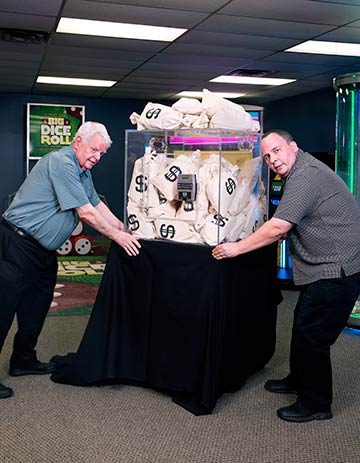 It was a rare loss for him. For three decades, he's been figuring the odds of these kinds of things: that Serena Williams would win a Grand Slam; that an average Joe would sink a half-court basketball shot; that Lance Armstrong would win a bunch of Tour de France races (without doping).
A droll 77-year-old with a lumbering gait and a head of unruly white hair, Hamman is a sort of cross between a bookie, insurance executive, and math professor, without actually being any of them. He's being portrayed by Dustin Hoffman in The Program, a movie about the Armstrong scandal.
When a car dealer offers a free Camaro to the local fan who kicks a 35-yard field goal at a college football game, it takes out a short-term insurance policy to cover its potential losses. Hamman's company, SCA Promotions, is one of those unofficial insurers, weighing the chance the unlikely will happen and charging a fee to reimburse Tri-County Chevrolet if it does. Companies such as SCA are like auto insurers that collect premiums against the chance a safe driver will have a costly collision, except there's no tragedy and the potential payoffs are enormous: $1 billion for a perfect March Madness bracket, $1 million to a fan if a skater scores five goals in an NHL game, $100,000 to a customer who makes a well-timed bank deposit.
SCA charged sponsors of Serena Williams $90,000 to insure against her collecting a $500,000 bonus for completing a calendar-year Grand Slam. Hamman took that on after Williams had already won this year's first two Slam events. Based on Las Vegas betting lines and Williams's potential for injury, Hamman pegged her Slam odds at about 14-in-100.
As Williams won Wimbledon and cruised through the early rounds of the U.S. Open, "I didn't pay much attention," Hamman says. But when he heard she was struggling with underdog Roberta Vinci in a semifinal, he flipped on his office TV to cheer for the eventual upset. "Absolutely, I always root for my economic interests," he says.
Hamman concedes he has to lose now and then, or "who needs us?" The trick to his business is in calculating as accurately as possible the probability of something happening. The odds set a basis for his fee, usually 2 percent to 10 percent of the prize total.

Bart Bramley, a former options trader who works for SCA helping Hamman set odds, likens his boss to baseball sabermetrician Bill James. "He has an ingenious way of coming up with a path to a number, to take something that seems noncomputable and put a number on it," Bramley says.
He recalls Hamman asking him to determine the probability of someone topping Joe DiMaggio's 56-game hitting streak. Bramley started with a couple of assumptions: high-average hitters getting to the plate four or five times a game during a season. "You can grind that number, that's pure math," Bramley says.
But Hamman told him to first find out how many players had recorded a 30-game hitting streak, then to use the odds of those happening as a basis for assessing the chances for a new record. Hamman says, "If you get it down to a 26-game problem, you reduce it to a number" that's more likely to persuade a contest sponsor to hire SCA and a reinsurer such as Swiss Re to share the risk.
Although it posts about $25 million in annual revenue, SCA is merely a sideline for Hamman, one of the world's best and most passionate bridge players. He's won more than a dozen world championships, including one at a recent tournament in Chennai, India.
When he's not playing bridge, he works in a Dallas office tower at a desk mounded with old mail, scribbled-on legal pads, and a Bob Hamman bobblehead. On the wall hangs a framed certificate from the American College of Life Underwriters. Books on his shelves include The Wizard of Odds and Principles of Statistics.
One of SCA's early gambits was a regular bingo game linking 30 halls via satellite. The grand prize was $250,000 for any player who covered her bingo card in 50 or fewer draws. Hamman figured the probability of paying such a sum required him to charge at least 83¢ per card played. He charged $1, while sharing a portion of that and the risk with some "not exactly household-name insurers," he says.

After a few lucky players hit the jackpot, Hamman's partners started to worry they were being cheated. He told them the losses were a statistical aberration. "At least I hoped so," he says, only half-joking. The losses soon subsided. "We made out pretty well," he says.
He recalls now that the odds of winning the big prize would've been 1-in-212,084. He turns to his desktop computer and looks it up. "I'm off," he says, raising a bushy eyebrow. "It's 1-in-212,085."
Between frequent pauses, digressions, and chuckles, Hamman himself has a hard time describing how his odd brain works: "You look at a situation (pause) and you try to figure out (pause) what both the negative (pause) and positive inferences (pause) that are not immediately obvious might be. In order to solve the problem (chuckle) you've got to understand what the problem is. Nothing very profound about that (chuckle)."

He failed to detect the dangers when SCA agreed to underwrite bonuses for Lance Armstrong during his string of Tour de France wins. SCA paid the bicyclist $1.5 million and $3 million for his 2002 and 2003 victories, but balked at paying $5 million in 2004 amid rumors that Armstrong was using performance-enhancing drugs. Armstrong sued and Hamman agreed to pay him $7.5 million. After Armstrong later confessed to cheating, Hamman went to court seeking a refund. The two sides recently settled the case.
Hamman shrugs off the episode as a cost of doing business. "Some of the press described it as the most sophisticated doping scheme ever," he says. "I'd suggest it was rather minor league compared to the East Germans" in past Olympics. Nevertheless, he says, "we knew nothing about cycling. If you sit down at a game and you look around and you don't see any pigeons, you're it."
SCA uses customized software for the most intricate computations, like those for NCAA basketball brackets, but most odds calls are made by Hamman, Bramley, and Hamman's 48-year-old son, Chris. "We've spent far more money than is rational on software," Bob Hamman says, "but it deludes me into thinking I know what I'm doing."
He's reluctant to offer advice to amateur sports gamblers, saying, "If I were a successful bettor, I might not be working for a living." But he says anyone who thinks she's smarter than professional oddsmakers is likely to lose. "If you know in your heart that Southwest Missouri State should be a six-point favorite and the line comes up 10, chances are you're missing something," he says.

SCA has to come out ahead in about 90 percent of its deals to make a profit after paying its 100 employees in Dallas, London, and Calgary. Over the years, Hamman estimates the company has paid almost $200 million in claims on potential risks totaling many billions of dollars. This year's losses include $500,000 to golfer Zach Johnson for winning the British Open, as well as that Ohio State furniture haul.
Hamman says he bet against the Buckeyes even after they swamped Wisconsin, 59-0, in the Big Ten title game. Ohio State was playing a third-string quarterback, and Hamman and Chris (who, on the side, manages 69 fantasy football teams) figured it was still a 7-point underdog in both playoff games. That translated to about a 7.5 percent likelihood of a Buckeye victory. SCA charged Morris Furniture of Fairborn, Ohio, a little more than 10 percent of the eventual prize and got partners to take on some of the risk. "In retrospect," he says, "it was a bad deal."
Some things simply defy the odds, no matter how exhaustively they're parsed. Like the time Hamman faced paying $1 million if a certain pony captured the quarter-horse Triple Crown. After winning the first two events, the horse veered off the track in a practice run, struck a fence, and died. Hamman swears, "I had nothing to do with it."
Before it's here, it's on the Bloomberg Terminal.
LEARN MORE