Poland Hands Unprecedented Ballot Win to Conservative Party
By and
Poles eject government that oversaw fastest-growing EU economy

Law & Justice projected to win slim parliamentary majority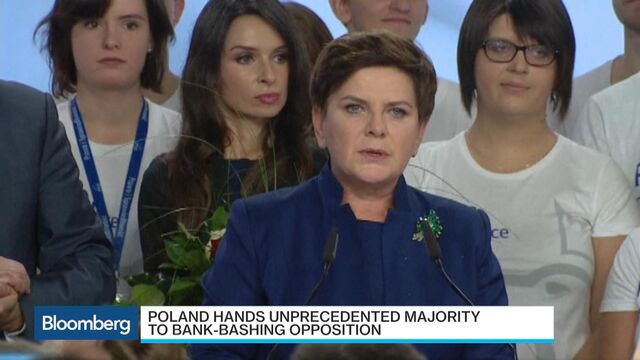 Poland's opposition Law & Justice party is on course for an election victory unprecedented in the country's modern history after pledging a tougher stance on refugees and more state control over the economy.
Law & Justice won 37.6 percent of the vote to 24.1 percent for the ruling Civic Platform, according to results published Monday by the election commission, which will announce the allocation of parliamentary seats Tuesday. Projections based on exit polls and partial results showed Law & Justice with 232 seats in the 460-member lower chamber, the first time that a single group will command a majority since Poland returned to democracy in 1989. Three other parties cleared the threshold for representation, with none of the leftist groups that succeeded the communists winning parliament seats for the first time since the country broke free of Soviet control.
The rise of Law & Justice marks the newest challenge for a European Union that's more divided than at any time since former communist states joined in 2004. While Poland's currency, stocks and bonds have underperformed emerging-market peers amid investor concern that the opposition will hurt banks' profits or spend too much, analysts at banks including UniCredit SpA and PKO Bank Polski SA expect markets to rebound following the vote.
"The madness of pre-election promises has nothing in common with real rule and I'm sure that Law & Justice will need to amend its pledges," Piotr Bujak, a senior economist at PKO, Poland's largest bank, said on Sunday. "There's no reason for markets to panic as Law & Justice won enough to form a stable government, but not too much to change the constitution"
The zloty weakened 0.5 percent to 4.2774 versus the euro at 6:13 p.m. in Warsaw, extending its loss in the past month to 0.7 percent, the worst performance among 24 emerging-market peers tracked by Bloomberg. The benchmark WIG20 index gained 0.2 percent, even as bank shares fell, with state-controlled PKO dropping 2.1 percent.
Voter Unrest
The victory caps a Law & Justice sweep of the country's top posts following President Andrzej Duda's surprise election win five months ago. Even if the final tally shows the party just below 230 seats, it would still be the best showing in any ballot since 1989 and political analysts say the party won't have trouble forming a government.
What's changing the political landscape is discontent over economic prospects as Poland endures widening regional gaps in prosperity and an exodus of workers to western Europe. More than a fifth of Polish workers make less than the $720 a-month poverty threshold. The number of Poles living abroad has more than doubled in the past decade to 2.3 million.
Beata Szydlo, Law & Justice's candidate for prime minister, is poised to overhaul the $548 billion economy with pledges to raise taxes on the financial industry, increase spending on child support and start a 350 billion zloty ($90.5 billion) central bank loan program.
Not Sufficient
The new government will look to tax bank assets from January by imposing a 0.39 percent levy, and another measure planned targeting bigger retailers, Zbigniew Kuzmiuk, a European Parliament member representing Law & Justice, told reporters in Warsaw on Sunday. Szydlo told TVN24 that boosting child subsidies is her policy priority while Civic Platform's Kopacz conceded defeat during her election-night speech.
"With Law & Justice having majority in parliament and Kukiz coming in third, the climate to hit banks is very good," Andrzej Domanski, who manages equities at Polish mutual fund Noble Funds TFI SA in Warsaw, said by phone. "Pro-market forces are absolutely on the defensive."
The party has also sought to lean on the central bank to rev up the economy, with Kuzmiuk saying Law & Justice will speak with the "independent" monetary authority about boosting investment and economic growth while ruling out a budget deficit above 3 percent. The next parliament will vote in six new members of the bank's 10-member policy council. Duda will appoint a further two rate setters, besides picking Governor Marek Belka's successor by mid 2016.
Rock Star
The ruling Civic Platform, which oversaw a 24 percent expansion of Poland's economy over its eight years in power, has 137 seats, while the anti-establishment movement of rock musician Pawel Kukiz was in third with 42 seats, according to partial results and the exit poll. Law & Justice and Kukiz's movement, which official results late Monday showed at 8.8% of the vote, are short of the two-thirds majority needed to amend Poland's constitution.
Nowoczesna, fronted by economist Ryszard Petru, garnered 7.6 percent of the vote -- or 30 seats in the earlier projection --, the co-ruling Polish Peasants Party won 5.1 percent -- or an estimated 18 seats -- and the KORWiN party was just below the 5 percent threshold to win entry into the legislature. United Left gained 7.55 percent, below the 8 percent threshold needed for coalitions to gain seats, ejecting from parliament for the first time since 1989 the group which includes members of the country's soviet-era communist elite.
"The left is terminally ill and it needs a cathartic experience, to draw a line under the past and start anew," said Kazimierz Kik, political scientist at Jan Kochanowski University in Kielce, Poland. "This election is the end of a certain era for the left in Poland."
Scandals, Detachment
Law & Justice has kept its campaign focused on Civic Platform scandals, including secretly-taped discussions of senior officials over lavish diners, which it says highlights the government's detachment from issues that matter for ordinary Poles.
Tapping concerns among some of its conservative Catholic base that too many Muslims are being allowed into Europe, Law & Justice opposes German-led efforts forcing EU member states to take in more migrants. It's against plans to curb smokestack emissions, which would hit the country's unprofitable coal mining industry. It also seeks western support for a greater NATO presence on Polish soil.
"We are heading for a new era," party leader Jaroslaw Kaczynski said in his acceptance speech. "We are extending our hand to those who want good changes."