Thain Sees His Fixing Days Over After Third Turnaround Effort
by
Former Merrill CEO to step down from top CIT job after 6 years

Thain says that his next role may be building something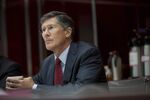 Looking back, John Thain figures he could've fixed Merrill Lynch & Co. As the world knows, he didn't. But after the brokerage collapsed into the arms of Bank of America Corp. and Thain was cast out, he became the unlikely Mr. Fix-It at CIT Group Inc.
Now he's moving on again -- this time, on his terms. The 60-year-old is stepping down as CIT's chief executive officer on March 31, 2016, after spending six years bringing the commercial lender back from its 2009 bankruptcy.
"The most important thing in terms of turning around CIT versus Merrill Lynch was the environment I was operating in," Thain said in an interview Thursday. "I had the time to refinance $31 billion in debt. We had time to dispose of bad assets, and we didn't have the financial crisis that happened right in the middle of when I was trying to fix Merrill."
He will stay on as chairman, handing the reins to former Royal Bank of Scotland Group Plc executive and CIT board member Ellen Alemany. He said he's been discussing his departure with CIT's board for about six months; he plans to retire and spend more time with his 2-year-old granddaughter.
The CIT job was Thain's third stint as a turnaround CEO; he also oversaw a transition at the New York Stock Exchange, taking the company public in 2006 and leading it through a $14 billion merger with Euronext NV. 
He pushed the exchange into more electronic trading, but said he probably won't follow the example of other bank executives who've aligned with so-called fintech firms: technology startups that offer financial services such as lending and payment processing. Former CEOs at Morgan Stanley and Citigroup, John Mack and Vikram Pandit, have spent the last few years investing in and advising these types of businesses.
"I'm a little skeptical about some of these fintech models; I'm not sure they're going to be sustainable when we get into a downturn in the credit cycle," Thain said.
He's not ruling out some other type of entrepreneurial role, though.
"My last three jobs have been fixing. If you gave me that choice, I would choose building," he said. "Growing something in general or something in the technology space more broadly would be interesting to me."
Leaky Ship
After nine months as Merrill Lynch CEO trying to quell its mortgage losses, Thain arranged the sale to Bank of America in September 2008. The agreement was for $29 a share, half the stock price when Thain took over, but the company avoided the fate of Lehman Brothers Holdings Inc., which went bankrupt the same weekend. Thain said the experience was like trying to patch a leaky ship as it sailed into a Category 5 hurricane.
Four months later, Thain was pushed out because of the growing losses, which required the bank to take another $20 billion in taxpayer funds, and his plan to accelerate $3.6 billion in bonus payments for employees. He also was widely criticized for spending more than $1 million on office redecoration, an expense he said he later repaid.
"If I could rewrite history, I would give myself time to fix Merrill, because I hated selling it to Bank of America, but it was necessary to save it," he said. "I would've liked to be the CEO of Merrill for 10 years. That would've been fun."
Unglamorous Spot
CIT offered Thain an unglamorous spot for rebounding after his departure from Bank of America: The lender to small and medium-size companies reported less revenue in 2009 than Bank of America made in an average week.
Thain overhauled CIT's finances, rebuilt relations with regulators, reinstated shareholder payouts and completed a $3.4 billion acquisition of OneWest Bank. The company's shares returned 33 percent from the time he took over through Wednesday; in the same period, the Standard & Poor's 500 Index more than doubled.
CIT announced Wednesday its intent to sell lending operations in Canada and China and explore strategic options for its $10 billion Commercial Air business, which manages a fleet of more than 350 commercial aircraft. Thain called that the last piece of the company's reshaping. The news sent CIT shares up 16 percent Thursday.
"It takes longer to fix things that someone else broke than you think, and it takes more capital or more financial assets than you think," he said. But "it is fun."
Before it's here, it's on the Bloomberg Terminal.
LEARN MORE