Taxes
Carl Icahn Says He'll Use New Super-PAC to Help America—and Himself
The New York billionaire is aiming his financial might at members of Congress who aren't willing to cut deals on corporate tax policy.
By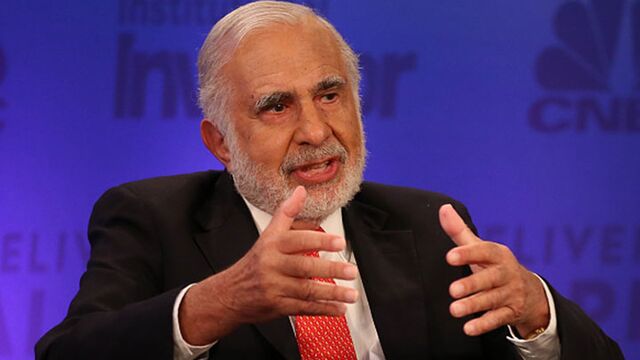 Sure, Carl Icahn might make money—lots of money—on his $6 billion stake in Apple Inc. if a political campaign he announced Wednesday to cut taxes on companies' foreign earnings succeeds.
So what? Icahn says. "It'll help Apple, but it will also help America."
The billionaire New York investor said this week that he plans to form a $150 million super-PAC to push Congress to deal with the tax issue, a move that would transform the 79-year-old political novice into one of the biggest donors in history. In a phone interview Thursday that he interrupted to field a call from a Republican senator, Icahn said those who questioned his motivations are probably just jealous of the money he stands to make. 
"I don't quite understand the criticism," Icahn said. "Let's assume your next-door neighbor had his house on fire, and your kid was playing in the house. You save three kids, one of them was your kid—are they gonna criticize you because you saved your own kid?"
The first target of the super-PAC, Icahn said in a letter to Congressional leaders this week, will be the U.S. corporate tax system. He wants to lower the amount that U.S. companies have to pay on the earnings of their foreign subsidiaries. The current system incentivizes companies to stockpile earnings in those foreign units to avoid the tax, or to adopt a legal address abroad in a controversial process known as inversion.
As the owner of one of the largest offshore hoards, Apple is among the companies that would stand to gain the most from a change in policy. 
A Queens native who amassed an estimated $22 billion fortune by buying the stock of underperforming companies and shaking them up, Icahn seems to be planning on bringing the same philosophy to Washington. And he dismisses questions about his motivations in the same way. Just as his corporate activism benefits his fellow shareholders as much as it enriches him, he said, his political activism will make the whole country stronger.
"Over the years, we've created tens of billions of dollars in shareholder value. Ask the other investors in those companies if they're angry that I got involved," he said.
In corporate boardrooms, Icahn's weapon is the proxy fight: he can threaten to hold a vote to unseat directors if they don't agree to make the changes he advocates. In many cases, directors give him what he wants rather than risk losing their seats. The super-PAC will help him play a similar role in Washington, Icahn said. "I agree with what Teddy Roosevelt said—walk softly and carry a big stick."
Beyond announcing the headline-grabbing number, Icahn said he has only begun to prepare for the effort. He hasn't determined how the political vehicle will be structured—or even if it will be a super-PAC or a similar entity known as a 501c4—or who will provide him with political advice. He said he's in talks with several important operatives in Washington.
Still, Icahn said he's been cheered by what he described as a uniformly positive response in conversations with more than a dozen senators and congressmen over the past two days. He said Harry Reid, the Senate minority leader, pledged 40 Democratic votes to help the effort in that chamber. (Reid's office didn't have an immediate comment.)
The tax-writing committees in Congress have discussed changes to the international corporate tax system for years, with little progress. A plan to include such a revamp as part of a highway spending bill now working its way through Congress collapsed earlier this month, according to Bloomberg BNA. Ken Kies, a Republican tax lobbyist, said in an interview Wednesday that nothing is likely to happen before the next Congress is seated in 2017.
But Icahn said the positive comments he's gotten from legislators make him optimistic. "I hope this thing is going through without a fight," he said. "I think it might."
Icahn, who has previously had little involvement in politics, said the super-PAC was inspired in part by a conversation he had a few months ago with a senator, an old friend, over dinner at his home. 
"He said, 'You wanna change the world? Do a super-PAC. Do a centrist super-PAC.' I don't think he meant me to do it, frankly. It may even go against him a little bit." Icahn wouldn't name the senator.
Although Icahn has recently praised Donald Trump, the Republican presidential candidate, he declined to comment on whether his super-PAC might ultimately be used to benefit Trump's candidacy. He did reiterate he's not interested in being Trump's secretary of the Treasury, an idea Trump has publicly floated.
But Icahn did name one other issue he plans to pursue with the super-PAC: Federal legislation that would make it easier for shareholders to oust entrenched corporate boards.