Horse Race
Carson Surges Past Trump in Latest Bloomberg Politics/Des Moines Register Iowa Poll
By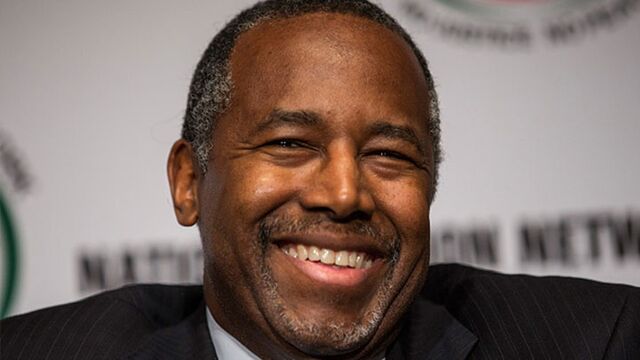 Republican presidential candidate Ben Carson has moved into a dominant position in Iowa, surpassing former front-runner Donald Trump as evangelical Christians begin to coalesce around him in the state that will cast the first 2016 nomination ballots.
A new Bloomberg Politics/Des Moines Register Iowa Poll shows the retired neurosurgeon is backed by 28 percent of likely Republican caucus participants, up 10 percentage points since late August. Trump is supported by 19 percent, down 4 points.
Those planning to caucus for Carson are drawn to his personal story and his status as a non-career politician, the poll shows, and they view him as someone who approaches issues with common sense and with guidance from his faith in God.
"His standing has improved in every way pollsters traditionally measure," said J. Ann Selzer, president of West Des Moines-based Selzer & Co., which conducted the poll. "This might be a wake-up for Donald Trump."
Read the questions and methodology here.

Texas Senator Ted Cruz, at 10 percent, is the only other candidate in double digits. He's followed by Florida Senator Marco Rubio at 9 percent. The horse-race numbers for the top four mirror a Quinnipiac University poll released Thursday, with the main exception being that the earlier poll had Rubio in third place with 13 percent.
The Iowa Poll, taken Oct. 16-19, included 401 likely Republican caucus participants. On the full sample, it has a margin of error of plus or minus 4.9 percentage points; the margin is higher in subgroups. 
Evangelical Christians, who represent 42 percent of likely Republican caucus participants in the poll, appear to be aligning behind Carson. He received support from a third of that group, up from 21 percent in August, when he only narrowly led Trump with that key segment. 
Cruz is unlikely to make large gains without support softening for Carson or Trump, who hold a combined 51 percent of evangelical likely GOP caucus participants. 
Carson's rise has also been fueled by gains with Tea Party supporters. Among those who consider themselves part of the limited-government movement, he gets a third of the support, up from 21 percent in August.
More than two-thirds of likely GOP caucus-goers also say that on the basis of religion alone, it would be unacceptable for a Muslim to be a U.S. president—a view Carson espoused in a Sept. 20 appearance on NBC's Meet the Press.

Likely Republican caucus participants, meanwhile, remain uncertain about Trump's Christian credentials. Only about a third consider him a committed Christian, while 28 percent say he isn't and 40 percent say they're not sure. His favorability declined slightly, to 59 percent, and the proportion of likely Republican caucus-goers who say they would never vote for Trump also ticked up 5 points to 34 percent.
When asked which two or three candidates they'd like to see drop out, Trump, at 25 percent, received the highest share. He's followed on the dropout wish list by former Florida Governor Jeb Bush and South Carolina Senator Lindsey Graham, both at 22 percent. Next is former New York Governor George Pataki at 21 percent.
Even after a month of super-PAC advertising on Bush's behalf in Iowa, he's picked by just 5 percent, down 1 point from August. His favorability rating has moved up 5 percentage points since August to 50 percent, however, his highest level in the past year.
Bush's name continues to burden him. Among likely caucus participants, 47 percent say that being the son and brother of two past presidents would be a bad thing because he would forever be in their shadow, while 42 percent say it would be a good because he knows the job's duties.
Carson's Appeal
As Trump dominated cable television over the summer, Carson quietly continued to build a network of Iowa supporters. He easily has the highest favorability rating among Republican candidates, with 84 percent of likely GOP caucus-goers seeing him positively, up from 79 percent in August.
Those glowing views of Carson, who rose from poverty to professional success and is seeking to become the nation's second black president, could make it hard for Trump, Cruz, or other rivals to attack him as the campaign heats up this fall.
In interviews, Carson supporters brought up his life story, candor, and non-political resume. Some also talked about how they think he could win black votes in a general election.
"He just says what he believes and I like that," said Bruce Lindberg, 56, a chiropractor from Ottumwa who is leaning toward supporting Carson. "I like his story. He's been a hard worker and I don't think anything was given to him. He knows what it takes to be successful and that you have to work for it."
The poll suggests Carson has more room to grow in Iowa, partly because his controversial statements generally aren't turning off even other candidates' supporters. Among that group, 56 percent find "very attractive" his statements that the Affordable Care Act, or Obamacare, is the worst thing since slavery, while 41 percent feel that way about his opposition to a Muslim president. Nearly half find "very attractive" his statement that Adolf Hitler's mass murder of Jews might not have been as successful if more people had been armed.
Another positive factor for Carson is Iowans' strong desire for an outsider candidate. Asked to pick the bigger risk for the country's future, 60 percent said it was electing "the same sort of person who has served as president for many decades," who would likely do things the way they'd always been done, while 31 percent see bigger risk in electing someone who hasn't held office and doesn't know how government works.
Two areas where Carson is less strong are his lack of foreign policy experience and his past research on aborted fetus tissue. Each registered as unattractive with a majority of likely GOP caucus-goers who aren't already supporting him.
Testing potential lines of attack against other top Republicans:
About half of likely GOP caucus-goers said they weren't bothered that Trump insults rivals.
Bush's advocacy for a "path to legal residence for immigrants who are in this country illegally" makes 63 percent less supportive of him.
When told Cruz has "led the charge for government shutdowns," 67 percent said they weren't bothered.
After hearing that Carly Fiorina was "fired as CEO at Hewlett-Packard with a $21 million severance package after the company lost stock value," 65 percent said they weren't concerned.
Rubio's youthfulness is mostly a non-issue, with 93 percent saying they're not bothered that the 44-year-old would be the third-youngest president.
As in a Bloomberg Politics/Saint Anselm New Hampshire Poll released Wednesday, more of Trump's Iowa supporters are decided than Carson's. Roughly a third of Trump supporters say their minds are made up, while just 15 percent of Carson's supporters say that.