SAC Capital's Steinberg Gets Insider Trading Charges Dropped
by
U.S. abandons prosecution after court narrows insider trading

Six who pleaded guilty also cleared in insider prosecution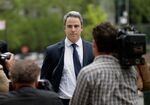 The U.S. dropped insider-trading charges against Michael Steinberg, a former fund manager at SAC Capital Advisors LP who was convicted by a federal jury, in the latest fallout from a major appeals court ruling that made such prosecutions more difficult.
The government also abandoned charges against six people who pleaded guilty and cooperated with prosecutors in the case, U.S. Attorney Preet Bharara said in a statement Thursday. The decision comes after the U.S. Supreme Court declined to hear the government's challenge of a decision overturning the convictions of fund managers Todd Newman and Anthony Chiasson in a related case.
Prosecutors have now dismissed or lost on appeal 14 of 87 convictions won during a six-year crackdown on insider trading. 
While others may challenge their insider-trading convictions, Bharara's deputy, Joon Kim, said in a phone interview that the government views the dismissals "to be largely the extent of the fallout from the Newman decision on our prior insider trading cases."
Still, some viewed it as a major setback for the office and the government's attempt to curtail illicit trading.
'A Blow'
"To see in black and white the vacating of seven convictions is a blow in what we have seen in a campaign to change norms and attitudes about tipping inside information on Wall Street," said Sam Buell, a Duke University law professor who served as lead prosecutor on the U.S. Justice Department's Enron task force. "This also shows the impact of the 'Newman' decision, which has made it more difficult to prosecute sophisticated tipping chains in the investment industry."
The decision follows the Supreme Court's refusal this month to review the appeals-court ruling, which overturned the convictions of Newman and Chiasson. Steinberg argued his conviction was based on essentially the same evidence.
"Based on legal developments subsequent to the defendant's guilty plea, the government has concluded that further prosecution would not be in the interests of justice," prosecutors wrote in a memo to the three federal judges in Manhattan who are presiding over the cases.
Tech Stocks
The dismissal caps a 3 1/2-year ordeal for Steinberg, who was the longest-serving employee at SAC Capital to be convicted in the U.S. probe of insider trading. Steinberg, who handled technology, media and telecommunications stocks at SAC Capital's Sigma Capital Management unit, was found guilty in 2013 of an insider scheme involving tech stocks that garnered more than $1.8 million in profits. He was sentenced to 3 1/2 years in prison.
"Michael Steinberg did not commit any crime and is an innocent man," his lawyer, Barry Berke, said in an e-mail. "We hope that his vindication will receive as much attention as his wrongful prosecution."
SAC pleaded guilty in 2013 and paid a record $1.8 billion fine to resolve U.S. claims over insider trading. It changed its name to Point72 Asset Management LP and agreed to manage only founder Steven Cohen's money. Cohen wasn't charged with wrongdoing.
"We are pleased that the ordeal for Mike Steinberg and his family is over," Mark Herr, a spokesman for Point72, said in a statement.
Among those who had their cases dropped Thursday were Spyridon "Sam" Adondakis, a Level Global Investors LP analyst who worked for Chiasson; Jon Horvath, who worked for Steinberg at SAC; and Jesse Tortora, who worked for Newman at Diamondback Capital Management LLC.
Secret Tips
Steinberg, Newman and Chiasson were part of a group of analysts and insiders at technology companies who socialized and were accused of funneling tips about technology companies to their fund manager bosses. The strategy was to maximize returns, Tortora testified at Newman and Chiasson's 2012 trial.
The group also included Danny Kuo, who worked at wealth-management company Whittier Trust Co.; Sandeep "Sandy" Goyal, a Neuberger Berman analyst who once worked at Dell Inc. and Hyung Lim, a former Altera Corp. executive. Prosecutors dropped their cases as well.
It's rare, but not unprecedented, for prosecutors to abandon charges against cooperators who have pleaded guilty, after they drop a case against the chief target. The judges presiding over the cases must formally dismiss the cases.
'Just Decision'
"This was obviously the right and just decision," Steven Peikin, a lawyer for Horvath, said in a phone interview.
Lawyers for other cooperators in the case also welcomed the government's decision.
"After five long years, my client is thrilled to be vindicated," said Jacqueline Arango, a lawyer for Tortora. "Justice was served in the end."
"They did the right thing here," Kuo's lawyer, Roland Riopelle, said in a phone interview. "Real justice is hard to do and that's what happened here," he said, noting that his client went to business school while awaiting the outcome of the case.
"We are very pleased with the decision," said Adondakis's lawyer, Justine Harris. "In light of the Second Circuit's decision in Newman, dismissal was the fair and right result."
Michael Sommer, a lawyer for Goyal, didn't immediately respond to voicemail and e-mail messages seeking comment on the government's decision.
U.S. District Judge Shira Scheindlin on Wednesday dismissed a Securities and Exchange Commission civil lawsuit against Chiasson and Newman after the agency said it didn't oppose the request.
Kevin Callahan, a spokesman for the SEC, declined to say whether the regulator would oppose requests from Steinberg and the six cooperating witnesses to also dismiss the agency's insider-trading lawsuit against them.
The appeals court ruling was a blow to Bharara, who targeted fund managers, corporate insiders and consultants. The decision raised the bar for prosecutions stemming from information passed by a corporate insider to a friend, relative or business associate.
In the Dec. 10 ruling tossing the fund managers' convictions, the appeals court said that, to be found guilty of insider trading, defendants must know their tips came from someone who not only had a duty to keep the information secret but also got a benefit for leaking it.
The case is U.S. v. Steinberg, 14-2141, U.S. Court of Appeals for the Second Circuit (Manhattan).
(An earlier version of this story was corrected to remove reference to SEC dropping lawsuits against alleged insider traders.)
Before it's here, it's on the Bloomberg Terminal.
LEARN MORE