The President Who Betrayed Business
Erdogan targets corporations and the media as he fights to keep a grip on power.
By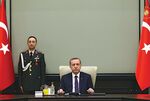 It's easy to forget that Turkish President Recep Tayyip Erdogan was once the darling of foreign investors and civil rights activists. They and the European Union cheered ahead of each election victory his party chalked up since coming to power in 2002. But not this time.
On Nov. 1, Turkey will hold the snap election Erdogan called after his ruling Justice and Development, or AK, party failed to secure a majority in June's parliamentary contest. Rather than allow a coalition that would hinder his plans to consolidate the power he wields from the 3 million-square-foot presidential palace he built last year, he opted for a retry. 

Since then, a war with Kurdish militants that cost Turkey more than 30,000 lives in the 1980s and '90s has reignited, and a series of terrorist attacks the government attributes to Islamic State suggests the conflict in Syria is seeping over the border. Erdogan's opponents accuse him of using the hostilities to discredit the Kurdish Peoples' Democratic Party, or HDP, which tipped the electoral arithmetic against him in June.
Erdogan's spokesman declined to comment, and the president has denied the accusation. Even so, he has called for HDP legislators to be stripped of their immunity so they can face prosecution for alleged links to terrorism. He has painted an us-or-them choice for voters, and not just between Kurds and Turks. In June he portrayed his domestic opponents as being in a conspiracy with foreign bankers, the New York Times, the BBC, and others "to weaken Turkey, to divide it and to disintegrate it, and then to swallow it." As outlandish as that may sound, the message is relentlessly reinforced by pro-government media, and it seems to be keeping the faithful from straying. The AK Party remains by far the most popular, with just over 40 percent of those polled in recent surveys voicing their support. The party got 41 percent of the vote in the June election. While a strong showing, that's not enough to secure it an absolute majority on Nov. 1.
Erdogan is also losing one of his biggest selling points to voters: economic growth. Consumer confidence has had a strong correlation to the AK Party's electoral fortunes, and it's falling sharply, according to Bloomberg data.
"If I'd known it would turn out this way, I would never have joined the party," says Suat Kiniklioglu, a former AK Party legislator and one of many liberals who were attracted by the party's big-tent politics in the early Erdogan years. "But who could have predicted it? In 2007, this was a completely different Turkey. It was a progressive force. There were membership negotiations with the EU, the economy was booming, the country was liberalizing."
Turkey's gross domestic product per capita more than tripled in dollar terms during Erdogan's first decade in power. That led Goldman Sachs in 2008 to predict that by 2050, the nation would be richer than Japan and Germany. Today that looks like wishful thinking. As measured in dollars, GDP shrank last year. That trend is expected to continue through the end of 2016.
The deteriorating business climate is due partly to police raids on companies and media associated with Erdogan's estranged allies in the Fetullah Gulen religious movement. His clash with Fetullah Gulen has also led him to purge the judiciary, which contained many Fetullah Gulen adherents, and turn it into a political tool. Since 2012, Turkey's ranking for the quality of its public institutions has slid to 75th in the world from 56th, according to the World Economic Forum's Global Competitiveness Index.
Erdogan has renewed a personal vendetta against Aydin Dogan, owner of Turkey's largest opposition media group. In 2009, Dogan's company was hit with multibillion-dollar tax fines that exceeded its market value, causing the company significant damage even though most of the fines were overturned in court. Koç Holding, Turkey's largest conglomerate, has also run into political headwinds, losing defense contracts it appeared to have won.
Ishak Alaton, chairman of the Alarko Holding conglomerate he founded in 1954, says he's worried. As a member of Turkey's small Jewish community, Alaton has spent a career trying to remain above the political fray. Now he says, "I'd like to see a coalition. A third election would be unthinkable for the country." Investors all have the same two questions when they ask about Turkey now, says Atilla Yesilada, an analyst at the Global Source Partners business consultancy in Istanbul: "Will Erdogan be able to steal the election? And will he again be able to prevent a coalition?" Investors see a coalition government that ties Erdogan's hands as the best way to heal some of the divisions that have opened up in Turkish society, Yesilada says. The likely partner in a coalition is the secular Republican People's Party, the AK Party's main opposition.
More concretely, investors and businesspeople are concerned that Turkish economic policy and political pressure on the Central Bank to keep rates low will get worse if Erdogan's take-no-prisoners approach is vindicated by a clear victory for the AK Party. His closest advisers are talking about introducing an economic paradigm focused on supporting national champions of industry.
To some, that sounds too much like the political and economic system that President Vladimir Putin has developed for Russia—"Putinism without the natural resources and military might," as Yesilada puts it. Turkey's democracy, however, still has a chance to avoid that fate on Nov. 1.
The bottom line: The Turkish election will result in a coalition government that restrains Erdogan—or an AK Party win that gives him much more power.
Before it's here, it's on the Bloomberg Terminal.
LEARN MORE