politics
Icahn Wants to Upend Washington With $150 Million Super-PAC
Zachary R. Mider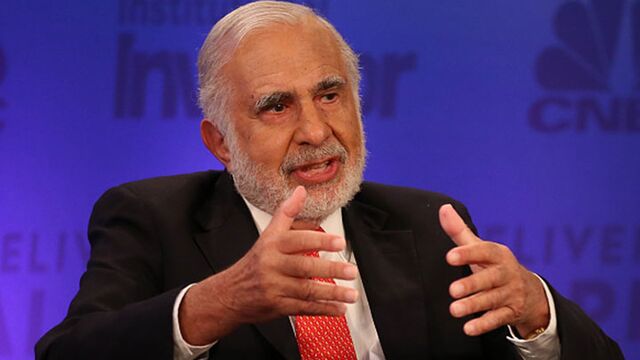 Carl Icahn, the billionaire investor known for picking fights with corporate executives, is now aiming his financial might at members of Congress who he says aren't willing to cut deals on pressing issues such as tax policy.
Icahn said he plans to put $150 million into a new super-PAC that would push for changes to the way U.S. corporations are taxed on their earnings abroad. But in a letter to Congressional leaders, he also suggested the group may take on other fights, raising the prospect of a potent new factor in the struggle between the moderate and conservative wings of the Republican party.
"The unwillingness to compromise is a form of corruption that has ruined many businesses, as well as countries, and is now afflicting our great democracy," he said in the letter, which was dated Oct. 20 and released on his website Wednesday.
If he follows through on his promise, Icahn would go from being virtually a political non-entity to one of the biggest-spending forces in U.S. elections. His contribution would be twice that of the biggest spender in the 2014 election cycle, the environmentalist and former hedge-fund manager Tom Steyer, according to a tally by the Center for Responsive Politics.
Icahn certainly has the means to carry out his pledge. His net worth is estimated at about $22 billion, according to the Bloomberg Billionaires Index, a fortune amassed over decades of buying stakes in companies and pushing for changes. He said he plans to encourage others to contribute to the super-PAC.
Super-PACs, made possible by a federal court ruling in 2010, can accept unlimited amounts of money from individuals and corporations, but cannot donate directly to candidates or coordinate with campaigns. They usually spend their money on television advertisements supporting their favored candidates and criticizing opponents.
If he backs moderate Republicans willing to compromise with Democrats, Icahn has the potential to serve as a counterweight to powerful outside spending groups such as Club for Growth and Americans for Prosperity, which tend to prioritize ideological purity over dealmaking, and have helped elect a wave of Republican lawmakers less eager to defer to party leadership.
These Republicans, many of them supported by the Tea Party movement, helped slow lawmaking to a crawl and bring about the shutdown of the government in 2013. They were a thorn in the side of House Speaker John Boehner, who recently announced plans to resign.
Icahn's announcement was met with skepticism by some in Washington.
"I, for the life of me, don't even know what he would spend $150 million on," said Kenneth Kies, a Republican tax lobbyist. "It sounds a little flaky to me, to be honest with you."
Icahn may find that brokering compromise may prove more difficult than he supposes, said Sam Geduldig, a lobbyist and former aide to Boehner.
"The question is, which interests get what they want by eliminating gridlock?" he said. "And which ones don't?"
Icahn said his first priority with the new group would be to revamp the way the U.S. taxes companies' foreign earnings. The current system has led to what he called a "pernicious" phenomenon known as inversion, in which U.S. companies switch their legal addresses abroad to reduce their tax bills.
"If the exodus is allowed to continue, there will be disastrous consequences for our already fragile economy," Icahn said in the letter. Icahn's solution is to lower the tax that U.S. companies pay on foreign earnings to 5 to 10 percent, removing most of the incentive to adopt a foreign address.
Icahn's crusade against inversions aligns with a position of Republican presidential candidate Donald Trump, whom Icahn praised last month. Trump has mentioned Icahn as a potential Treasury secretary.
"The inability of Congress to enact desperately needed legislation because of certain members not willing to compromise is reprehensible, and the members responsible must and will be held accountable," Icahn said. He endorsed a tax proposal put forth this year by Senators Chuck Schumer and Rob Portman and called for it to be included as part of a highway funding bill now working its way through Congress. Schumer is a New York Democrat and Portman is a Republican from Ohio.
Icahn's tax proposal would affect not only companies considering inversions, but virtually all multinational firms incorporated here, because so many of them stockpile their foreign earnings abroad rather than return the money to the U.S. and pay tax of as much as 35 percent. He said companies are currently holding $2.2 trillion abroad that could otherwise be invested in the U.S.
Among the companies with billions in foreign earnings is Apple Inc., one of Icahn's biggest current investments. Icahn has been calling for Apple to return more earnings to shareholders, an effort that is hindered, in part, by the international tax rules. Icahn didn't mention Apple in the letter, and didn't respond to requests for comment.
Icahn describes himself as a centrist. His biggest contributions in the past were checks in 2002 to Republican and Democratic party groups, of $100,000 each, according to the Center for Responsive Politics.
Icahn is now contemplating eclipsing the fundraising records of all but one super-PAC in history. That exception is the group supporting Mitt Romney in the 2012 presidential election, which raised $154 million from hundreds of donors over a two-year period. The largest super-PAC to be formed so far in 2015, supporting Jeb Bush's presidential bid, has raised $102 million.
The network of conservative donors organized by Charles and David Koch has pledged to spend around $900 million this year and the next, but only about a third of that will be overtly political, and the network raises money from hundreds of individuals.
(Updates with Koch network in the last paragraph.)
Before it's here, it's on the Bloomberg Terminal.
LEARN MORE