Biogen to Fire Workers, Restructure R&D After Difficult Year
by
Company raises forecast as adjusted earnings beat estimates

Late-stage trial of drug natalizumab fails, company says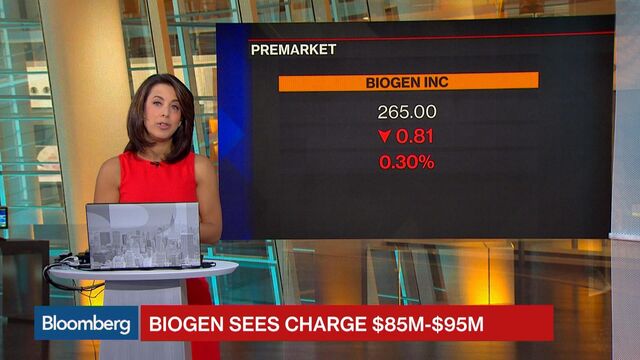 Biogen Inc. will fire 11 percent of its workforce and shut down some research programs in order to put money behind existing drugs and what it sees as its best future bets.
The company said the cuts to its workforce of about 8,000 people will save about $250 million a year. It comes after several periods of disappointing results and a stock price that is down 22 percent this year. Most of the restructuring will be completed by the end of 2015, and the drugmaker said it will take an $85 million to $95 million charge, mostly in the fourth quarter.
"This year has been a challenging one but I believe that we have a solid business and R&D pipeline with exceptional potential," Chief Executive Officer George Scangos said on a conference call with investors Wednesday.
The company also reported third-quarter financial results Wednesday that showed signs that it may be turning a corner. Profit, excluding one-time items, was $4.48 a share, compared with analysts' forecast of $3.77 on average, according to estimates compiled by Bloomberg. Revenue increased 11 percent to $2.78 billion, led by sales of the company's top drug Tecfidera, Cambridge, Massachusetts-based Biogen said Wednesday in a statement. Analysts had expected $2.64 billion in sales.
"We are encouraged by this report as it points to the fact that Tecfidera may be stabilizing after messy 1Q and 2Qs, and we think a leaner more focused organization is more good than bad," said Cory Kasimov, an analyst with JPMorgan Chase & Co.
Biogen shares rose 2.7 percent to $272.99 at 10:28 a.m. in New York.

The company also raised its full-year forecast. Non-GAAP diluted EPS is projected to be between $16.20 and $16.50 for the full year, an increase from prior guidance, and 2015 sales will be 8 percent to 9 percent higher than last year. The drugmaker expects R&D costs to increase next year, Chief Financial Officer Paul Clancy said on the conference call.
Tecfidera Sales
Sales of Biogen's leading drug, Tecfidera, which treats multiple sclerosis, rose 19 percent $937 million in the third quarter. That beat analysts' average estimates of $897 million, according to data compiled by Bloomberg, though $10 million to $15 million of the growth came from wholesalers stocking up on the treatment, the company said on the call.
Biogen said it plans to use savings from the firings to support sales of the drug, which the company said wasn't growing as fast with patients as it would like.
The company sped up buying its stock in July under an existing program to purchase $5 billion of its shares. It plans to complete the buybacks by the end of the year, Clancy said.
A top pipeline prospect, natalizumab, failed in a late-stage trial for secondary progressive multiple sclerosis, the company said. Biogen will also end R&D programs for drugs to treat lupus and a form of multiple sclerosis.
Biogen has been facing pressure from investors after its stock performance this year, which is among the worst by biotechnology companies valued at more than $10 billion. The drugmaker's sales chief and its head of research and development both left the company in recent months, and its largest investors have been trimming their stakes. A small number of patient brain infections, competition from Novartis AG and Sanofi and waning doctor enthusiasm all contributed to slowing growth in Tecfidera sales before the third quarter.
The drugmaker's most closely watched products in development, such as its experimental drug for Alzheimer's and an MS drug that could reduce the effects of the disease, are years away from approval. Biogen's CEO said he would consider deals both large and small that fall within the company's areas of expertise, which include auto-immune disorders and Alzheimer's disease. Any experimental, late-stage-of-development drug would have to cross a high bar before the company would consider buying it, Scangos said.
Before it's here, it's on the Bloomberg Terminal.
LEARN MORE