Google Makes First China Investment Since 2010 Pullout
By
Deal said to value AI startup Mobvoi at $300 million

It marks the latest step in Google's low-key return to China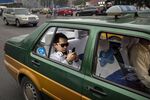 Google Inc. is making its first direct investment in a Chinese startup, an artificial-intelligence developer, since mostly quitting the country in 2010 over censorship concerns.
Google is leading a round of funding for Mobvoi Inc., a company operating a Chinese-language voice-activated search engine. Google used Mobvoi instead of its own blocked service in the Moto 360 smartwatch released in China in June.
The deal underscores how Google may be edging back into the world's largest mobile market with its first strategic investment in years. In 2014, a growth equity arm of the corporation called Google Capital invested in InnoLight Technology Corp., a Suzhou-based company that makes high-speed data transmission hardware.
"Mobvoi is very excited to welcome Google as an investor as both companies share a long-term view on technologies," Li Zhifei, a company co-founder and former Google employee, said in a statement without specifying the amount that the Mountain View, California-based company is investing.
Mobvoi, known in Chinese as Chumenwenwen, has raised $75 million from backers including Sequoia Capital and ZhenFund, the company said Tuesday. The latest deal values Mobvoi at about $300 million, according to two people familiar with the details who asked not to be identified because the valuation is private.
In 2010, Google said it wouldn't self-censor content for Chinese services, and then shut its local search page and directed users to its Hong Kong website. U.S.-based Internet firms, including LinkedIn Corp., operating in China are currently required to censor local content.
Going Back
While China's government now blocks Google's Gmail, search services and YouTube, the company's Android software runs most of the country's biggest-selling smartphones. Google is considering opening an app store for Chinese users, The Information blog has reported.
Mobvoi, founded by former Google employees who worked in translation and voice search at the California campus, will use the money to strengthen its artificial-intelligence development, explore smart-car technologies and hire more people.
The startup also is developing hardware, including a smartwatch called the Ticwatch, that integrates its own operating system and voice search, said Li Yuanyuan, a co-founder. Mobvoi has partnered with 100 data providers, she said.
"Mobvoi has developed some very unique speech and natural language processing technologies," Don Harrison, vice president of corporate development for Google Inc., said in a statement. "We were impressed by their innovative approach and the early traction that they've seen."