Scorecard Mixed as Indonesia's Jokowi `Drifts' in First Year
By
Jokowi behind targets on growth, infrastructure, inequality

Some progress on bureaucratic reform, step backwards on graft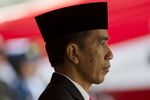 Since taking office a year ago, Indonesia's President Joko Widodo has had mixed results in his agenda to lift the economy, build infrastructure and reduce inequality.
The former governor of Jakarta was elected as the first leader outside the machinery of the country's main political parties, on high expectations he could cut corruption and reform the bureaucracy in the world's largest archipelago. On his inauguration on Oct. 20, 2014, he was feted like a rock star in the capital's main thoroughfare with crowds swarming around his open horse-drawn carriage.
His popularity among voters and investors has fallen in a year marked by slowing economic growth, policy u-turns and controversy over appointments. Widodo, known as Jokowi, said on his Twitter account Tuesday that the past year was about laying foundations and the first step was often the hardest.
"His first year in office has been characterized more by drifting through, rather than a seamless execution of a meticulously thought out master plan," said Wellian Wiranto, an economist at Oversea-Chinese Banking Corp. in Singapore.
Foreign fund investors have pulled $722 million from Indonesian stocks this year, and the rupiah is down about 12 percent since Jokowi took office, the second-worst performer in Asia. Here's an assessment of progress in six key areas of Jokowi's campaign pledges.
ECONOMIC GROWTH
Jokowi pledged to lift economic growth to above 7 percent within his term, from an average of 5.7 percent during the decade of his predecessor Susilo Bambang Yudhoyono. Growth slowed to about 4.7 percent in the April-June quarter, the weakest since 2009, and in a Bloomberg survey is expected to only grow 5.4 percent next year.The economy has been hurt by a slump in prices for the commodities that make up more than half of Indonesia's exports, such as natural gas, coal and palm oil. While that's out of Jokowi's control, the government's economic forecasts were over-optimistic.

Consumer confidence fell to more than a six-year low in September, in a country where domestic consumption makes up over half of the economy, and foreign direct investment has stagnated. A series of recent stimulus measures have amounted to tinkering rather than fresh cash or major structural reforms.
"There is no evidence of a strategy to turn around the economy," said Paul Rowland, an independent Jakarta-based political analyst. "Tweaks won't do it unless they add up to a more coherent strategy that unshackles domestic and foreign investment."
BUREAUCRATIC REFORM
Improving spending needs a more efficient bureaucracy, in a decentralized system where civil servants are poorly paid and often act only if there's an economic incentive. Jokowi changed the structure of ministries and pledged to fire officials depending on results.
"The decision to rearrange a number of ministries also ate up a lot of time while new senior bureaucrat positions were filled, and it's arguable that was unnecessary," said Keith Loveard, head of political risk analysis at Jakarta-based security company Concord Consulting. "However, one year on there is a sense that the ship of state is settling on a steady course."
Jokowi reshuffled his economic team in August, and has also shaken up some state enterprises such as PT Pertamina with new management teams. There's no sign Jokowi has been able to improve regional administrations, with central government funds stuck at the local level and forest fires still spreading haze pollution across Southeast Asia after a deadline to stop them.
INFRASTRUCTURE DEVELOPMENT
Jokowi pledged to build 30 new dams, 15 airports, 24 ports, and 3,258 kilometers of railroads among infrastructure plans. After a slow start, there are signs some projects are starting to get going.
The government opened the taps for a Chinese-built dam in August and state companies agreed terms with China for a new railway to Bandung this month. Jokowi attended a ground-breaking ceremony for a $4 billion coal-fired power plant that he said would start after years of delays. Yet the Japanese investors in the project say they have not fully acquired the land they need.
"It's all going to depend on implementation," said Gundy Cahyadi, an economist at DBS Group Holdings Ltd. in Singapore, adding this will depend on factors such as improving the bureaucracy and use of a land acquisition law. "The implementation of projects has been quite disappointing."
PRODUCTIVE SUBSIDIES
Jokowi pledged to fund infrastructure by gradually reducing fuel subsidies. As oil prices fell last year, he took advantage by scrapping gasoline subsidies, a move seen as a major policy success. The decision "took guts," Rowland said.
However, as oil prices recovered, and workers protested over Asia's highest inflation rate, Jokowi has effectively reintroduced subsidies by keeping fuel prices low, shifting the burden for losses onto Pertamina.
The subsidy policy's "de facto semi-reversal since then is probably indicative of the reluctance to push through all the way when faced with political realities, especially in the face of the decline in his public rating," said Wiranto.
FIGHTING CORRUPTION
Jokowi vowed after wining the July election to cut corruption by 70 percent by building new systems, such as electronic tax collection, and the remainder by adding staff to the anti-graft agency known as the KPK.
This issue has perhaps been the biggest disappointment for his supporters. The KPK named Jokowi's choice for police chief a suspect and the police retaliated by investigating the agency's commissioners, leading several to step down. Since then, there have been few high profile arrests by the agency.
"Jokowi has ignored the fundamental aspects of civil freedom, legal reform, improvement in corruption eradication and settlement of human rights violations," said the Setara Institute for Democracy and Peace, a Jakarta-based research body.
INEQUALITY
A "dangerous" level of inequality threatens the world's fourth most-populous nation, Jokowi told Bloomberg in February.
The economic slowdown isn't helping. Around 43,000 workers in Indonesia lost their jobs between January and September, the Bisnis Indonesia newspaper reported. The country's poverty rate was 11.25 percent in March, up from 10.96 percent in September before Jokowi took office.
— With assistance by Rieka Rahadiana, and Yudith Ho
Before it's here, it's on the Bloomberg Terminal.
LEARN MORE