Drone Makers Skeptical of Obama Plans to Register the Aircraft
by
Transportation Department to announce plans for registry

Task force will craft plan for commercial and hobbyist drones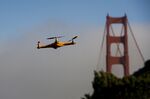 The drone industry is reacting skeptically to plans by the Obama administration to combat a growing safety threat by requiring buyers of drones to register them with the government.
The U.S. Transportation Department has scheduled "an important safety announcement" about drone use for 12:30 p.m., according to an e-mail from the agency. A task force of government and industry officials will craft a plan to create a registry, said a person familiar with the plans, who wasn't authorized to disclose the information and spoke on the condition of anonymity.
While saying they recognize the need for greater accountability for unmanned aircraft and will cooperate, industry spokesmen said they were concerned about how such a registry would work, the legality and how effective it would be.
"As with all things, the devil is in the detail," Michael Drobac, director of the Small UAV Coalition, which represents companies including Google's Project Wing and Amazon.com Inc. "We have very little detail and much of this feels like it's being pulled together very rapidly and with very little input from industry."
The administration hopes a registry would encourage hobbyists and other drone owners to follow rules intended to prevent the aircraft from crashing into planes or hurting people on the ground, according to the person. In the event of an accident, a registry may help the government track down the operator.
Transportation Secretary Anthony Foxx and Federal Aviation Administration head Michael Huerta are scheduled to make the joint announcement.
Pilot Encounters
Pilot encounters with drones and other incident reports are on pace to at least quadruple to more than 1,000 this year, the FAA said in August. The reports highlight a growing threat to U.S. aviation by unmanned aircraft.
The Academy of Model Aeronautics, which represents hobbyists who fly drones and more traditional remote-controlled aircraft, issued a report saying very few incidents were actual risks of a mid-air collision.
SZ DJI Technology Co., the Chinese company that is the world's leading manufacturer of small civilian drones, looks forward to working with the FAA and the Transportation Department, said Brendan Schulman, the company's vice president for policy and legal affairs in the U.S.
"The feasibility and effectiveness of any drone registration system will very much depend on the details of how registration would be accomplished, who would manage the process, and which types of drones it would apply to," Shulman said in an e-mail.
Congress in 2012 exempted drones being flown for recreation from any U.S. regulation, so long as operators followed safety standards.
Congressional Exemption
That prohibition on government regulation may make it difficult to require owners to register their aircraft, Drobac said. "We need to hear where the authority comes from. Would this be mandatory?" he said.
While most members of Drobac's trade group would support a registry, he said he anticipates that at least some may oppose such a requirement.
Details such as whether the smallest toy drones would be exempt, should previously purchased drones be registered and who is responsible for registering them are questions that the task force must resolve, the person familiar with the proposal said.
Non-commercial drone operators must obtain FAA permission before flying within five miles of an airport and must stay away from piloted aircraft and people on the ground, according to the agency. The FAA also has a process for approving drone flights for hire, which must follow similar requirements.
Regulators are concerned that a collision between a drone and a plane, which could easily occur at a speed of 200 miles (320 kilometers) an hour or more, may damage an aircraft or its engines. Encounters with drones can also cause pilots to be distracted from other critical tasks.
Industry groups estimate that at least 500,000 drones have been sold in the U.S., many of which are capable of flying thousands of feet above the ground. Separately, the FAA is finalizing regulations for the commercial use of drones weighing less than 55 pounds (25 kilograms). Rules for larger drones will come later, the FAA says.
Before it's here, it's on the Bloomberg Terminal.
LEARN MORE