Big Oil Companies Back Agreement to Prevent Climate Change
by and
CEOs meeting in Paris don't reach agreement on carbon pricing

Chinese may join group, which doesn't include U.S. producers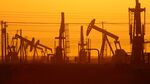 Ten major energy companies declared their support for a global deal to prevent climate change, but stopped short of offering unanimous backing for carbon pricing.
Producers including BP Plc, Saudi Arabian Oil Co. and Petroleos Mexicanos -- who together account for almost 20 percent of the world's oil and gas output -- said in a statement they will back policies consistent with the goal of keeping the increase in average global temperatures to within 2 degrees Celsius (3.6 degrees Fahrenheit).
The joint conference in Paris Friday follows a June letter from BP, Eni SpA, Royal Dutch Shell Plc, Total SA, Statoil ASA and BG Group Plc urging governments to agree to carbon pricing at the United Nations' so-called COP21 climate change summit starting in the French capital next month. While the new Oil and Gas Climate Initiative added the support of companies from Saudi Arabia, Mexico and India, the broader group didn't agree a common position on whether companies should pay a price to emit greenhouse gases.
"The OGCI doesn't have a position on CO2 pricing, not a common one," Helge Lund, chief executive officer of BG Group, told Bloomberg News at the conference in Paris. "The European companies have written a letter to the UN where we strongly support it," Lund said, without naming the companies that didn't back carbon pricing.
Chinese Companies
The OGCI includes BG Group, BP, Eni, Pemex, Reliance Industries Ltd., Repsol SA, Saudi Aramco, Shell, Statoil and Total.
"Our shared ambition is for a 2 degree Celsius future," the 10 CEOs said in a joint statement. "Over the coming years we will collectively strengthen our actions and investments to contribute to reducing the greenhouse gas intensity of the global energy mix."
While no U.S.-based companies are part the group, one big producer from China should join this year, said Total CEO Patrick Pouyanne. China is the world's biggest emitter of carbon dioxide.
"It's an open club, whoever wants to come is welcome," Pouyanne said on the sidelines of Friday's conference. "Most of my U.S. peers are also engaged in the climate change" issue, he said, adding that some of the oil companies present in Paris also had major U.S. operations.
Exxon Mobil Corp. said in May it wasn't going to "fake it" when it came to its views on climate change, arguing that technology can provide solutions to any impacts that result from increasing global temperatures.
Saudi Reserves
Saudi Aramco, the largest producer present in Paris with daily crude output of about 10 million barrels and 260 billion barrels of reserves, will not reduce its oil-production capacity, CEO Amin Nasser said.
"Oil will continue to contribute to prosperity over the long term" and Saudi Arabia will maintain production capacity of 12.5 million barrels a day, Nasser said. "But we need to decouple the production of oil from carbon emissions" using technology to capture the gas and convert it into other useful chemicals, he said.
The "overwhelming majority" of Middle East oil reserves and 60 percent of its gas reserves must remain unburnt to prevent an increase in global average temperatures of more than 2 degrees Celsius, researchers at University College London said in a January report.
Oil Prices
Environmental groups said oil producers are still part of the problem.
"The oil companies behind this announcement have spent years lobbying to undermine effective climate action," Charlie Kronick, a campaigner at Greenpeace, said in an e-mailed statement. "Suddenly they expect us all to see them as the solution, not the problem. The world should thank them for their offer of advice and politely turn it down."
The almost 60 percent slump in oil prices since June last year could make curbing emissions more difficult, Total's Pouyanne said. "I'm not sure it will help because when the oil price is low, the demand for oil is higher," he said.
Before it's here, it's on the Bloomberg Terminal.
LEARN MORE