Hesitant Paul Ryan Would Have $35 Million Shoes to Fill as Speaker
By
Wisconsin Republican urged by colleagues to seek top House job

Boehner says he'll stay on until his replacement is selected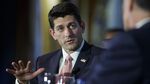 Republicans imploring Paul Ryan to become U.S. House speaker are dangling a pledge that he can skip the job's frantic fundraising duties. But it'll cost them upwards of $35 million per election cycle.
That's what outgoing Speaker John Boehner raised, through a grueling nights-and-weekends pace that had him trekking from Florida to Alaska and places in between throughout the 2014 campaign. And this year is no different, as Boehner already has traveled to more than 100 events, according to his fundraising operation.

Being speaker today is not just wielding the gavel but also shaking a tin cup, and Ryan says no thanks. The 2012 Republican vice presidential nominee is considering the party's plea yet is reluctant, in part because the travel would keep him away from his family in Wisconsin and his beloved budget tables as chairman of the Ways and Means Committee.
Some say the cost wouldn't only be to the party. Ryan, 45, would find himself a weaker speaker if he didn't put his star quality to work for lawmakers desperate for campaign cash.
"A speaker who doesn't raise money for his members would really lose a lot of his power," said Ron Peters, a political scientist at the University of Oklahoma and author of "The American Speakership: The Office in Historical Perspective." He added, "You've got to have those levers of power to get anything done in the House of Representatives."
To ease Ryan's concerns, party leaders are said to be considering a plan that would remove some of the fundraising responsibilities from the speaker's office. Boehner, on the other hand, threw himself into fundraising.
Political Action Committees
In the 2014 elections, Boehner raised at least $35 million through three political action committees he controls as speaker, according to Federal Election Commission records. The House speaker helped other candidates raise even more money by traveling to their districts and serving as a headliner for their campaigns.
"If you don't have money to give out, it does weaken you," said John Catsimatidis, a Republican who ran unsuccessfully for mayor of New York City in 2013 and who co-hosted a fundraiser for a Boehner political action committee. "That account would be used by Boehner to maintain his friends and family; to get people to vote for him," said Catsimatidis, the billionaire owner of real estate and energy conglomerate Red Apple Group Inc. "It's not everything in life, but it contributes to his power."
The Boehner for Speaker political action committee passed along almost all of the $35.38 million it raised in the 2014 election cycle to other House candidates. The biggest beneficiaries were the National Republican Congressional Committee, which raises funds to support the party's nominees, and Boehner's own accounts that aided others.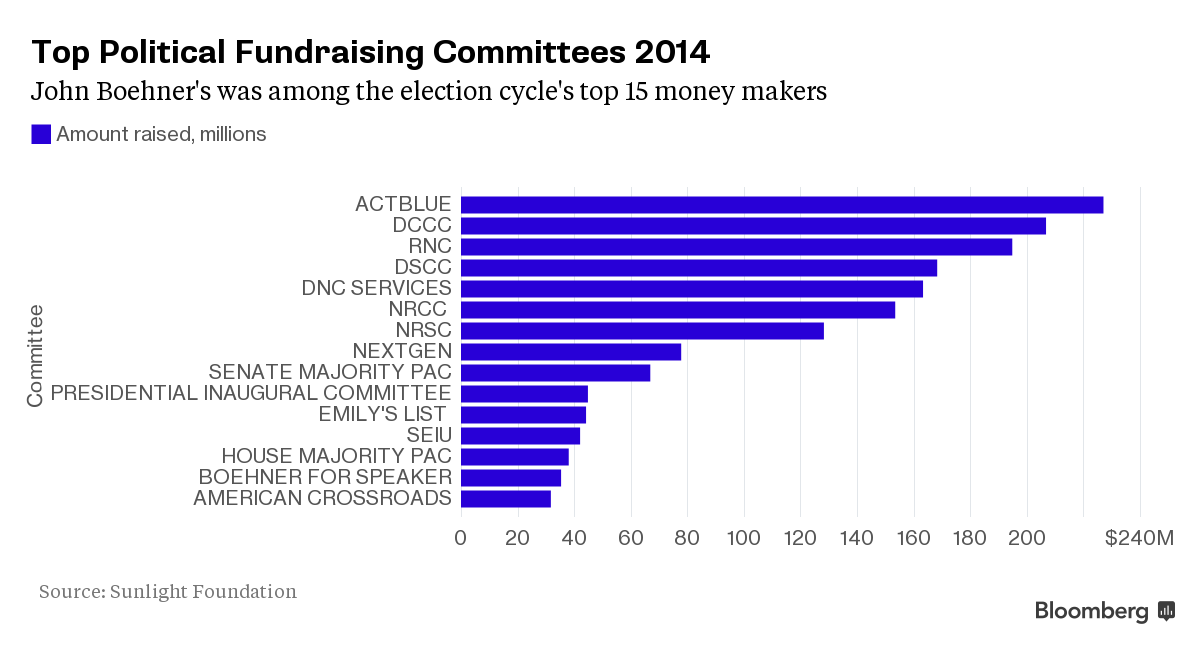 That committee's haul made it one of the top-ranked fundraising committees for 2014, the only one of the top 15 affiliated with an individual. Committees that raised more than Boehner for Speaker were all affiliated with political parties, labor unions or were super-PACs that can accept seven-figure checks.
That's not all. Friends of John Boehner, a campaign account, raised $18.3 million in the 2014 cycle and spent $18.03 million supporting other GOP candidates, according to the FEC. The average House member raised $1.76 million during that time, according to the nonpartisan Center for Responsive Politics.
Freedom Project
Another account maintained by Boehner, called the Freedom Project, distributed $3.04 million to federal candidates on the more conservative end of the spectrum -- including some who would turn on Boehner and prompt him to resign in the middle of this term.
Along with donations to Boehner allies such as Pennsylvania's Charlie Dent, the account gave money to some members of the House Freedom Caucus that eventually helped oust the speaker, including $5,000 each to Representative Jim Jordan of Ohio -- Boehner's home state -- and Barry Loudermilk of Georgia.
Legal transfers by those committees make it hard to sort out exactly how much money Boehner raised for other Republicans.
In addition, the Congressional Leadership Fund, a super-PAC closely tied to Boehner, raised $12.6 million for Republican House candidates in the 2014 cycle.
Ryan, during the 2014 election period while he was House Budget Committee chairman, raised $13.2 million through his campaign account and a separate leadership committee, according to FEC data.
Fifty-Three Speakers
Fifty-three people have held the speaker's gavel since Frederick A.C. Muhlenberg was chosen speaker on April 1, 1789, the day the House established itself in the first Congress. Sam Rayburn, a Texas Democrat who helped President Franklin Delano Roosevelt pass New Deal legislation, is the longest-serving speaker with 17 years at the helm.
While in the 1970s and 1980s leaders in both parties began raising money to prop up longshot candidates, Peters said Speaker Newt Gingrich stepped on the gas a decade later.
Over time, the responsibilities of the post have changed. In an age when advertising is the coin of the realm in U.S. politics and presidential hopefuls make fundraising prowess part of their resume, this aspect has become an indispensable component of the job.
"What the speaker has is two things: power over money and power over what gets to the floor," said Peters, the Oklahoma political scientist.
Paul Brace, a Rice University political scientist and expert on Congress, said allowing Ryan to bypass the fundraising function would be unprecedented.
"Without this power to punish and reward, I can't imagine Ryan could get any further than Boehner," Brace said. "The GOP is desperate for a measure to resolve this impasse so they might accede to this wish, maybe winning this battle but ultimately losing the war."