The Outsider
If Jim Webb Hates Politics So Much, Why Is He Running?
Friends say he has an overwhelming compulsion to serve his country—stronger even than his visceral dislike for campaigning.
By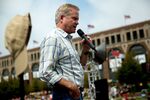 Jim Webb's political campaign is beyond minimalist. The former Virginia senator rarely does events. He's only made pilgrimages to Iowa and New Hampshire a handful of times. He doesn't maintain a super-PAC, or cultivate a presence on the Sunday shows, or make policy announcements, or send out attack lines. His poll numbers are under 1 percent. What's more, he's often expressed a contempt and even revulsion for the compromises and gladhanding and money raising necessary to pursue a career in electoral politics. Since he announced his candidacy in July, with a 2,000 word e-mail to supporters the day before a three-day weekend, his campaign has largely felt like an act of self-sabotage.