Barclays Plans to Appoint Jes Staley as Bank's Next CEO
by and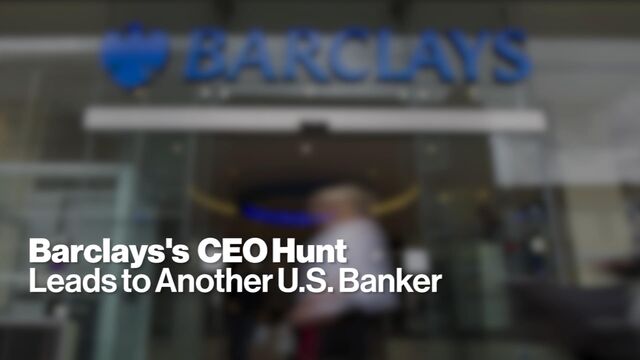 Barclays Plc is close to naming Jes Staley as its next chief executive officer, reverting to an American investment banker to accelerate a companywide overhaul three years after the departure of Robert Diamond.
The London-based bank has told regulators that Staley, a 34-year veteran of JPMorgan Chase & Co. who later joined hedge-fund firm BlueMountain Capital Management, is the frontrunner for the top job, a person with direct knowledge of the matter said, asking not to be identified because the decision isn't final. If approved, the appointment could be announced within two weeks, the person said.
Kerrie Cohen, a Barclays spokeswoman, declined to comment.
Chairman John McFarlane is looking for a CEO who can boost revenue and strengthen the investment bank while navigating rules and investigations that have eroded the firm's profits. In July, McFarlane ousted CEO Antony Jenkins, a former retail banker, after growing frustrated with the slow pace of restructuring. Jenkins had replaced Diamond, a U.S. investment banker, who resigned in 2012 after the firm was penalized in an interest-rate-rigging scandal.
"Jes is dead-set in the middle" of those two predecessors, said Bill Daley, who was chairman of JPMorgan's Midwest region before becoming President Barack Obama's chief of staff. "He's got a bit of the pizazz of Diamond," but also works well with regulators, Daley said.
The Financial Times reported Staley's selection earlier Monday.
McFarlane's Pledges
Staley, 58, began his banking career at Morgan Guaranty Trust Co. of New York in 1979, after graduating from Bowdoin College with a degree in economics. At JPMorgan, he spent three decades rising from his post as an investment banker in Brazil to run the firm's asset-management and investment-bank units. He was once seen as a candidate to succeed Jamie Dimon as CEO.
As part of a series of executive changes in 2012, Staley was stripped of all day-to-day management duties and passed over for promotion. Months later, he quit to become a managing partner at BlueMountain. A spokesman for that firm declined to comment. Staley also sits on the board of UBS Group AG.
While boosting revenue at Barclays is a major focus, McFarlane also has pledged to press on with cost cuts and divestitures as he seeks to shore up returns and double the share price over the next three to four years. Its investment bank has been plagued by the weakest return on equity, a measure of profitability, of all four units. It's essential for the firm's next CEO to have experience in that type of business because Jenkins "found it difficult to deal with" shrinking the division, McFarlane has said.
Other European lenders also have appointed new CEOs this year, with Tidjane Thiam taking the helm at Switzerland's Credit Suisse Group AG and Bill Winters replacing Peter Sands at Standard Chartered Plc. At Deutsche Bank AG, John Cryan took over as co-CEO with Juergen Fitschen after the departure of Anshu Jain.
In firing Jenkins, McFarlane repeated the same tough stance he took at U.K. insurer Aviva Plc three years earlier. Aviva's share price jumped more than 80 percent under him, with his approach to job cuts and cost reductions earning him the unwanted nickname "Mack the Knife."
Before it's here, it's on the Bloomberg Terminal.
LEARN MORE