Draghi Says Emerging-Market Slowdown Poses Fresh Risk for Europe
by
ECB ready to adjust size, duration, composition of QE program

ECB chief says indebted countries must beware of higher rates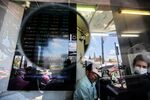 Slowing growth in emerging markets and slumping commodity prices are posing fresh challenges to the euro-area economy, which may need to be countered by adjustments to quantitative easing, European Central Bank President Mario Draghi said.
"Developments surrounding the slower growth in emerging-market economies are posing renewed risks to the euro-area outlook," Draghi said on Friday in a statement at the annual meetings of the International Monetary Fund in Lima. Even so, the region is proving "resilient" and headline inflation is expected to rise toward the end of the year because of base effects relating to energy prices, he said.
As the slowdown accompanying China's transition to a consumption-led economy drags on global output, the 19-nation euro area is struggling to cement its slow and fragile economic recovery. Since March, the ECB has been pumping 60 billion euros ($68 billion) a month into the economy via public-sector debt purchases, in a bid to spur demand and boost inflation back toward a goal of just under 2 percent.
QE Flexibility
"In the light of renewed risks that have emerged on the back of recent developments in global and in financial and commodity markets, we are closely monitoring all relevant incoming information," Draghi said. Policy makers "are ready to use all the instruments available within our mandate to act, if warranted, in particular by adjusting the size, composition and duration of the asset-purchase program."
Draghi also warned that countries should be on alert for the impact of higher borrowing costs. Some market rates have risen amid the tumult, and both the U.S. Federal Reserve and Bank of England are considering tightening their ultra-loose monetary policies.
"With bond yields subject to volatility, high-debt countries in particular need to pay attention to risks related to a reversal of the current low interest-rate environment," the ECB president said. Economic reforms are needed for "increasing the adjustment capacity and resilience of the euro-area economies to global shocks."
Before it's here, it's on the Bloomberg Terminal.
LEARN MORE